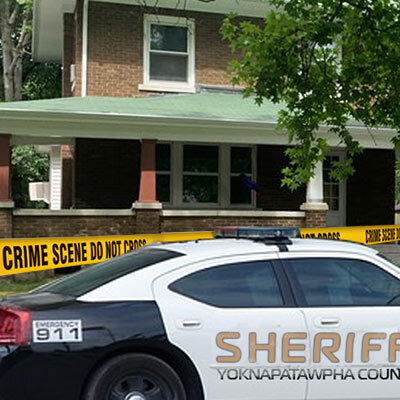 What's happened so far…
Investigation Day 1
Deputy Fred Willits was dispatched to an Alesville residence in response to a silent alarm triggered at that location. On arrival, he found a young man on the property who insisted on speaking with detectives.
While Detective Ragland spoke to the accused burglar, Detectives Beckwith and Magee went to see a local reporter who the young man claimed had more information.
Later, the detectives met with the homeowner about the burglary and his family's relationship with Brandon.
Afterward, Detectives Beckwith and Magee took a closer look at the overview of information Joanne collected and Daniel's social media activity.
Investigation Day 2
The next morning, investigators talked to neighbors to find out more about the Gayle household and tried to learn more about Daniel. They also put out a BOLO just to be on the safe side.
Detectives Beckwith and Magee spoke to Yoknapatawpha High School faculty and staff, including a coach who taught both Daniel and his father, Mark.
Later, they talked to Daniel's high school art teacher about his time in school and his plans for an art career.
Then the detectives talked to Vince's girlfriend about their relationship with Daniel.
Investigation Day 3
The following day, while some investigators spoke to former and current members of the YHS art club, others talked to people who attended the New Year's Eve party with Daniel.
Based on information from those interviews, Detectives Beckwith and Magee talked to a man witnesses say was angry at Daniel after the party.
Then, they asked Brandon to come back in to clear up a few things.
Late that afternoon, The Oxford Weekly Planet's gossip column posted some blind items about what's happening in Yoknapatawpha County.
Investigation Day 4
First thing in the morning, a man with a connection to Daniel contacted the sheriff's department and spoke to the detectives.
That afternoon, Detectives Beckwith and Magee went to Memphis to see a detective who contacted them about the BOLO.
Investigation Day 5
The detectives asked Vince to stop by the station on his way to work the next morning. Then they talked with Sharon to get her recollections.
Later, they asked Rodney to come in to answer some follow-up questions.
Investigation Day 6
The next morning, Detectives Beckwith and Magee wanted to know what Brandon had to say about some newly uncovered information.
Later on, Detective Beckwith talked to another YCSD detective about a person of interest common to both of their investigations.
That afternoon, the detectives talked to Daniel's former employer to find out about his time working there.
Meanwhile, other investigators spoke to other employees about Daniel's tenure there, and one of them pulled an invoice of interest to the investigation.
Investigation Day 7
Early the next day, Detective Magee spoke to a colleague in the NYPD about Daniel's activities in New York City.
A short time later, the detectives got an update from Detective Guidry with some information they'd asked him to look into.
While they waited for Axyl to come in to explain a few things, Detectives Beckwith and Magee took a look at Daniel's recent financial activity.
After a quick lunch, the investigators reviewed the results of their efforts to corroborate alibis for some of the persons of interest.
Then they met with the host of the New Year's Eve party Daniel attended to learn more about what happened that night.
The host's friend Claire gave the detectives some new insight into Daniel's mood at the party.
Investigation Day 8
Detectives Beckwith and Magee started the next day talking to Chas Laughlin's wife and son about the family's interactions with Daniel and their whereabouts the last time he was seen in Oxford.
After the detectives took a look a the evidence collected from Daniel's car, they went to see Brandon's employer.
Later, they talked to Brandon's parents about his activities after Daniel left and his relationship with Daniel.
All of this info is available now in the Detectives' Evidence Preview
Subscribe to see it right away
Then, the detectives followed up with Joanne to see if she had any additional information for them.
Investigation Day 9
The next morning, investigators spoke to Rodney's colleagues to determine his whereabouts around the time Daniel was last seen.
Later, they spoke to Vincent's co-workers and members of the Bible study group to learn more about his activities around the same time.
Detectives Beckwith and Magee also talked to Sharon's best friend and her employer to get more information about Sharon.
Investigation Day 10
The detectives met with the editor of the Oxford Weekly Planet to get more information about Joanne Ebner.
Later, they reviewed the Crime Lab's preliminary findings on the evidence from Daniel's car.
That afternoon, investigators spoke with friends and family of one of Daniel's co-workers.
Then they took a look at some information about Daniel's Facebook account access.