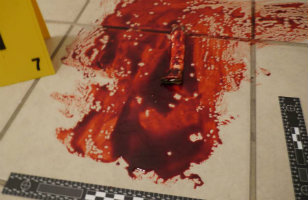 What's happened so far?
Investigation Day 1
Yoknapatawpha Emergency Services received a 911 call reporting a man found dead in his home on Saturday evening.
Victor Jennings, the deceased, was well-known to the YCSD because he was on house arrest awaiting trial on extortion charges at the time of his death.
After they finished at the scene, Detectives Murphy and Parker went back to the station to talk to the woman who found the body.
Investigation Day 2
First thing the next morning, Victor's brother came in to talk with the detectives.
Then Detectives Murphy and Parker met with Victor's right-hand man to find out more about his boss.
A little while later, the detectives talked to Victor's next door neighbor to find out more about their relationship.
By midafternoon, the Oxford Weekly Planet had shared the news of Victor's death with the community, and soon after, CSU sent the detectives a preliminary inventory of evidence collected near the body.
All of this info is available now in the Detectives' Evidence Preview
Subscribe to see it right away
Investigation Day 3
The next morning, Victor's parents came in to talk to the detectives. They met first with Victor's father, Brad. Then Detectives Murphy and Parker spoke to Victor's mother, Margaret.
Later, Victor's lawyer dropped by during his lunch break to talk to the detectives about his client.
That afternoon, the detectives read something in the Oxford Weekly Planet that prompted to reach out and schedule a couple of interviews for the next day.
Later on, the detectives got information about Victor's phone calls in the days leading up to his death.
Investigation Day 4
The station was buzzing as the people the detectives arranged to meet with came in for their interviews. First, Detectives Murphy and Parker sat down with Mr. Hollywood to get his take on Victor.