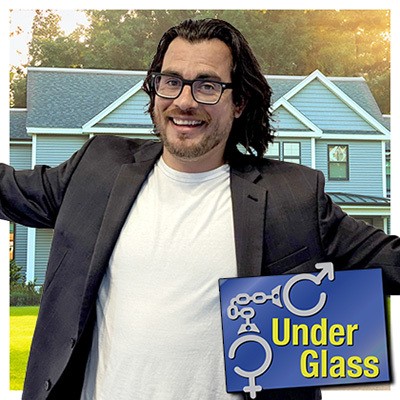 What's happened so far…
Investigation Day 1
Yoknapatawpha Emergency Services received a 911 call reporting a dead body inside an outbuilding in a residential area.
The property where the body was found is the location of a local streaming entertainment show that has been somewhat controversial since its start.
Detectives Beckwith and Magee spoke to the man who found the body about how he made the gruesome discovery.
Next, the detectives talked with the residents of the house, starting with Ole Miss student Mackenzie Collins, followed by criminal justice major Lacey Mitchell, then social media influencer Tanya Ryder, and finally, the newest housemate, Jessi Lee.
After finishing those interviews, the detectives went outside to talk to Ben Morgan, the leader of the protesters.
On their way to their next interviews, the detectives reviewed what other investigators had learned from their canvasses of the protesters and the people who live close to Under Glass.
Detective Magee sat down with former housemate Shiloh Bates, who was busy working when they arrived, while Detective Beckwith talked to Shiloh's live-in boyfriend and co-worker, Wyatt Yancey.
Investigation Day 2
By the next morning, the media was all over the story. The detectives started their day with CSU's preliminary inventory of the evidence collected at the scene.
Then Detectives Beckwith and Magee headed out to Hoyt's residence to find out more about him.
From there, the detectives sought out Hoyt's ex-girlfriend and asked her to come in for a conversation.
Afterward, they wanted to speak with Hoyt's former mentor, but the detectives had a little trouble locating him.
In light of what they learned, the detectives issued a BOLO for Alden Puckett and then updated the case file with the results of investigators' attempts to corroborate alibis for the witnesses they'd talked to so far.
Investigation Day 3
Detectives Beckwith and Magee found someone with information to share waiting for them at the station the next morning.
To follow up on that information, the detectives went to see one of Under Glass's neighbors.
Later on, they had Kenny come in to answer some more questions.
Then the detectives headed up to Holly Springs to talk to an old friend of Hoyt's.
Investigation Day 4
With Zeke's help, Detectives Beckwith and Magee were finally able to talk to Alden, and they collected a few items as potential evidence.
That afternoon, Hoyt's attorney talked with the detectives about Hoyt's legal situation and provided a copy of an email that shed new light on some of Hoyt's relationships.
Meanwhile, other investigators spoke with former residents of Under Glass.
Investigation Day 5
The next morning, the detectives asked Shiloh and Wyatt to come in to see if they could provide any information about some evidence found at the crime scene.
Later, they tried to get Kenny to come clean, but he insisted he knew nothing, so the detectives executed a search warrant at his residence.
Then, Detectives Beckwith and Magee went to see Birdie's boyfriend to find out what he had to say about Hoyt and Birdie.
The detectives followed up with Don's assistant to see if she agreed with what he told them.
Investigation Day 6
When the detectives arrived at the sheriff's office, they found the coroner's summary report waiting for them.
Then they headed back up to Holly Springs for another conversation with Zeke after prison personnel searched his cell.
Back in Oxford, the preliminary forensics report from the crime scene was ready. The crime lab also asked the detectives for their help with one puzzling item found at Hoyt's home.
All of this info is available now in the Detectives' Evidence Preview
Subscribe to see it right away
Later that afternoon, the detectives went to see Chas Laughlin to find out if he had anything to say about Hoyt or any of Alden and Zeke's claims.
Investigation Day 7
In light of the indications that neither Alden nor Birdie had been entirely forthcoming, the detectives got search warrants for both of their residences.
After the search, Detectives Beckwith and Magee sat down with Birdie to find out if she was ready to come clean.
When they finished that interview, the detectives reviewed the Puckett landline phone records for the day Alden said he received a threatening call.
Then they updated the case file with information on additional witness alibis while they waited for June Puckett to arrive to answer some more questions.
Afterward, the detectives drove up to see Alden again to get some answers from him.
Investigation Day 8
The next morning, Detectives Beckwith and Magee went to see if Zina had anything to add to the information she'd already provided.