What's happened so far?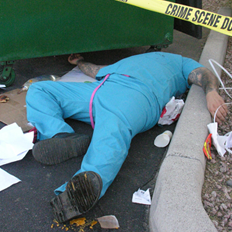 Investigation Day 1
Emergency Services received a 911 call reporting a deceased male behind the Yoknapatawpha Acres nursing home. The victim was identified at the scene as Jerry Shaw, an employee of the nursing home.
While detectives were still working the scene, the Oxford Weekly Planet's Crime Beat was breaking the news.
After examining the scene, Detectives Armstrong and Murphy returned to the station to talk with the woman who found the body, someone they'd met before.
Investigation Day 2
The next morning, after the detectives reviewed CSU's preliminary inventory of evidence from the scene, they spoke to Phil about his late brother.
After lunch, they met with the Yoknapatawpha Acres manager to find out more about Jerry as an employee.
Then they talked to the facility's head nurse about Jerry's workplace performance and interactions.
Next, Detectives Armstrong and Murphy spoke with a nursing assistant who worked with Jerry at the nursing home.
All of this info is available now in the Detectives' Evidence Preview
Subscribe to see it right away
When they talked to nurse Erin Bailey, the detectives got a different perspective on Jerry than they'd heard from other people.
Nurse's aide LaDonna had some tales of her own to tell about Jerry.
Investigation Day 3
Early the following morning, the detectives asked the oxygen delivery guy about his relationship with Jerry, which other witnesses had mentioned.
Then they met with Yoknapatawpha Acres nurse Sylvia to find out more about her reported personal relationship with Jerry.
Around midday, the crime lab sent over their preliminary findings on evidence found near Jerry's body.
After lunch, the detectives went to Yoknapatawpha Acres to talk to a resident who reportedly had complained about Jerry.