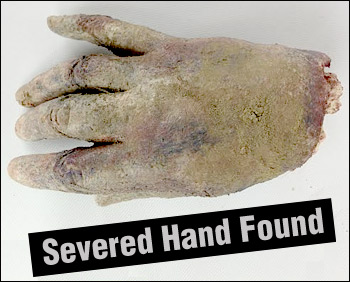 What's happened so far?
Investigation Day 1
The sheriff's department was called to Duffy's Bar & Grill on Sunday night, July 13, 2014, because a man who had been drinking at the establishment claimed to have a severed human hand in his possession.
Investigation Day 2
The next morning, the Oxford Weekly Planet made sure the community knew all about it.
Once farmer Johnny Reagle sobered up, the detectives had a talk with him about the hand and his claim that it belonged to his ex.
After that conversation, Johnny agreed to show the detectives the location on his farm where he found the "root," which led to another discovery that captured the neighbors' attention.
Investigation Day 3
By early the next morning, investigators had identified a missing person report that could be connected to the case.
A uniformed officer who works the graveyard shift contacted the detectives with some information he thought might be relevant to their investigation.
Shortly afterward, the coroner's office confirmed who the hand belonged to.
Meanwhile, the sheriff's department reached out to the public to try to locate that missing person.
When the detectives looked into the person whose hand was found, they discovered a recent interview with the man in the sheriff's department case files.
All of this info is available now in the Detectives' Evidence Preview
Subscribe to see it right away
Detectives Armstrong and Murphy brought in the missing man's wife for a serious conversation.
That afternoon, the detectives searched the farmhouse on Reagle Farm Road and mapped out where evidence was found in the house.
Investigation Day 4
The next morning, the sheriff's department released the identity of the victim to the local media.
At the same time, Johnny's ex contacted the sheriff's department and spoke with Detectives Armstrong and Murphy.
Later the detectives went over to the Fine's apartment complex to talk to the people there, including the resident manager and the maintenance man.