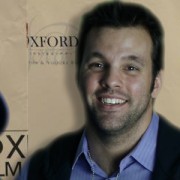 Michael Hawke interview
Tuesday, March 12, 2019 – 10:02 a.m.
Michael Hawke and his wife were allegedly being blackmailed by Victor Jennings.
Detectives Murphy and Parker interviewed him at the Yoknapatawpha County Sheriff's Department.
Participants:
Detective S. Murphy
Detective E. Parker
Michael Hawke
Detective Murphy: Come in, and have a seat right over there.
Michael Hawke: All right. Thank you. Is this about that crook, Victor Jennings?
Detective Murphy: We need your name and address before we can begin.
Michael Hawke: Sure. I'm Michael Hawke. I live in California, but right now we're staying at John Grisham's house here in Oxford. He's a friend.
Detective Murphy: Would you mind telling us why you're in Oxford now?
Michael Hawke: No, I don't mind at all. I'm here for two reasons. First, to prepare my testimony in the case against Victor Jennings. With the help of my wife and I and other people Victor blackmailed, the Feds had him nailed. That won't happen now, obviously. Second, I've been scouting Oxford for locations for a new movie I'm producing and starring in.
Detective Murphy: So, you'll be here a while, in case we need to speak to you again?
Michael Hawke: I hope you won't need any more from me. I don't know anything about what happened to Jennings.
Detective Parker: Where were you on March 9th?
Michael Hawke: We had just gotten to town. I wrapped on my latest movie on the first and had just enough time to get home and pack again so Samantha and I could come here to prep our testimony with the prosecutor.
Detective Parker: So you've been in Oxford since when exactly?
Michael Hawke: The 8th, I think. Before that, I was on location in Paris, France. I star in a movie about a handsome, sexy lothario who is having an affair with a married woman. My co-star was the beautiful—
Detective Parker: Oh, no spoilers now, Mr. Hawke. Let's stay focused. Where were you on March 9th?
Michael Hawke: Sorry. I got carried away, I guess. Most people are interested. My wife and I are known as "Mr. and Mrs. Hollywood," after all.
Detective Parker: Yes, sir. March 9th?
Michael Hawke: Right. That was the day after we got here. The mayor showed Samantha and I around Oxford, and then we went out to dinner. We didn't get back to our place until about 10:00 p.m.
Detective Murphy: I guess we don't need to ask you if you had any reason to want Mr. Jennings dead.
Michael Hawke: You aren't suggesting that I killed that crook, are you? I'm not the kind of guy that resorts to murder.
Detective Murphy: Wasn't Jennings blackmailing you? How did that happen?
Michael Hawke: He was recommended to us, and we hired him to represent our memoir to publishers. While we were working together, he found out some things that we had no intention of including in the book. He decided to use that information to blackmail us. He was garbage. If we had known he was that kind of person, we never would've hired him.
Detective Parker: What about Mrs. Hollywood? Was she angry enough to kill Mr. Jennings?
Michael Hawke: Samantha is the love of my life, and she wouldn't hurt anyone. She is beloved by fans all over the world. Something you wouldn't know anything about.
Detective Parker: I'm sure that's all true, but it doesn't answer the question.
Michael Hawke: I came here to help any way I could, and you insult me and my wife?
Detective Murphy: Mr. Hawke, did you contact Mr. Jennings after you arrived in town?
Michael Hawke: Absolutely not. We were preparing to go to court. I would in no way contact him before that. I have business to take care of. Are we done here?
Detective Murphy: Yes, for now. We may need to speak with you again though.
Michael Hawke: Just contact my assistant to schedule a time. I think I'd like one of my attorneys to be with us if there's a next time. Good day, ladies.
Interview ended – 10:27 a.m.
---