Newspaper clip file – Melvin Roberts
YOKNAPATAWPHA COUNTY SHERIFF'S DEPARTMENT
Investigating Officer(s): Det. S. Murphy. Det. E. Parker
Incident No.: 003369-14G-2019
Case Description: Monica Drum homicide investigation
YCSD investigators compiled some of the articles Monica Drum wrote about Melvin Roberts and his arrest.
---
Local convenience store owner arrested for rape
Roberts of Melvin's Nite Owl professes innocence
March 14, 2014
By Monica Drum
Eagle City Reporter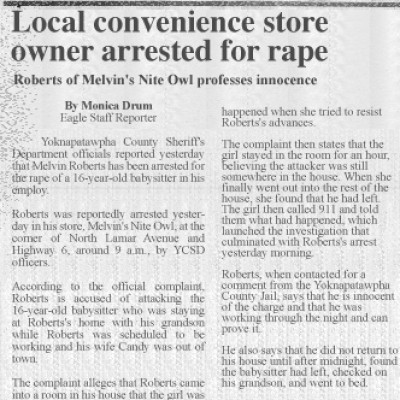 Yoknapatawpha County Sheriff's Department officials reported yesterday that Melvin Roberts has been arrested for the rape of a 16-year-old babysitter in his employ.
Roberts was reportedly arrested yesterday in his store, Melvin's Nite Owl, at the corner of North Lamar Avenue and Highway 30, around 9 a.m., by YCSD officers.
According to the official complaint, Roberts is accused of attacking the 16-year-old babysitter who was staying at Roberts's home with his grandson while Roberts was scheduled to be working and his wife, Candy, was out of town.
The complaint alleges that Roberts entered a room in his house where the girl was sleeping and forcibly raped her in the dark, telling her that he would kill her if she made any noise or told anyone.
The complaint states that the girl smelled alcohol on Roberts's breath and that she believed he was very drunk at the time of the attack. Besides the rape, the victim was also beaten and suffered a concussion and multiple contusions in the attack, as well as a broken finger, which she says happened when she tried to resist Roberts's advances.
The complaint then states that the girl stayed in the room for an hour, believing the attacker was still somewhere in the house. When she finally went out into the rest of the house, she found that he had left. The girl then called 911 and told them what had happened, which launched the investigation that culminated with Roberts's arrest yesterday morning.
Roberts, when contacted for a comment from the Yoknapatawpha County Jail, says that he is innocent of the charge and that he was working through the night and can prove it.
He also says that he did not return to his house until after midnight, found the babysitter had left, checked on his grandson, and went to bed.
Roberts's attorney, Don Margolis, who sat with Roberts throughout questioning, says that the charges are baseless and will be defeated if and when they go to court.
But YCSD spokesperson Elizabeth Jones says that the case against Roberts is very good. Physical evidence was found at the scene that implicates Roberts in the attack, and the victim's testimony against Roberts is solid, according to Jones.
The victim, who is currently recovering in a private room at Baptist Memorial Hospital in Oxford, picked Roberts out of a line-up as her attacker and also identified his voice as the voice of her attacker.
Many people in Oxford wonder how Roberts could do such a thing, but it is common knowledge among Oxford's residents that Roberts has been battling alcoholism and substance abuse for several years now, bouts of which have required him to seek professional help at clinics for rehabilitation in Tupelo and Memphis.
Roberts states that Melvin's Nite Owl will remain open its regular hours and that he expects to be back in the store in a short time to continue serving his many customers. He also says that his longtime policy of serving customers in uniform for free will no longer apply to employees of the Yoknapatawpha County Sheriff's Department.
ACQUITTED!
Convenience store owner released from custody
November 25, 2014
By Monica Drum
Eagle City Reporter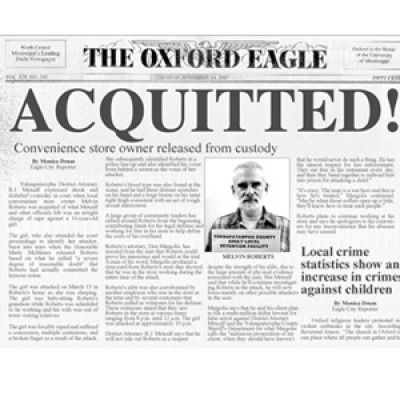 Yoknapatawpha District Attorney R.J. Metcalf expressed shock and disbelief yesterday in court when local convenience store owner Melvin Roberts was acquitted of what Metcalf and other officials felt was an airtight charge of rape against a 16-year-old girl.
The girl, who also attended the court proceedings to identify her attacker, burst into tears when the Honorable Marty McManus released Roberts based on what he called "a severe degree of reasonable doubt" that Roberts had actually committed the heinous crime.
The girl was attacked on March 14 in Roberts's home as she was sleeping. The girl was babysitting Roberts's grandson while Roberts was scheduled to be working and his wife was out of town visiting relatives.
The girl was forcibly raped and suffered a concussion, multiple contusions, and a broken finger as a result of the attack. She subsequently identified Roberts in a police line-up and also identified his voice from behind a screen as the voice of her attacker.
Roberts also had three distinct scratches on his hand and a large bruise on his inner right thigh consistent with an act of rough sexual intercourse.
A large group of community leaders has rallied around Roberts from the beginning, contributing funds for his legal defense and working for free in his store to help defray the costs of his overhead.
Roberts's attorney, Don Margolis, has insisted from the start that Roberts could prove his innocence and would at the trial. A man of his word, Margolis produced a time-card from Roberts's store that showed that he was in the store working during the entire time of the attack.
Roberts's alibi was also corroborated by another employee who was in the store at the time and by several customers that Roberts called as witnesses for his defense. These witnesses stated that they saw Roberts in the store at various times ranging from 8 p.m. until 12 a.m. The girl was attacked at approximately 10 p.m.
District Attorney R.J. Metcalf says that he will not rule out Roberts as a suspect despite the strength of his alibi, due to the large amount of physical evidence associated with the case. But Metcalf said that while he'll continue investigating Roberts in the attack, he will now focus mainly on other possible attackers in the case.
Margolis says that he and his client plan to file a multi-million dollar lawsuit for false arrest against District Attorney Metcalf and the Yoknapatawpha County Sheriff's Department for what Margolis calls the "malicious prosecution of my client, when they should have known that he would never do such a thing. He has the utmost respect for law enforcement. They eat free in his restaurant every day, and then they band together to railroad him into prison for attacking a child."
"It's crazy. The man is a community hero and this is how he's treated," Margolis continued. "Maybe when those coffers open up a little, they'll know how to treat such people."
Roberts plans to continue working at his store and says he apologizes to his customers for any inconvenience that his absence may have caused.
Melvin's Nite Owl on the market
Melvin Roberts says customers just not coming in anymore
March 23, 2016
By Kelly Shackleton
Oxford Eagle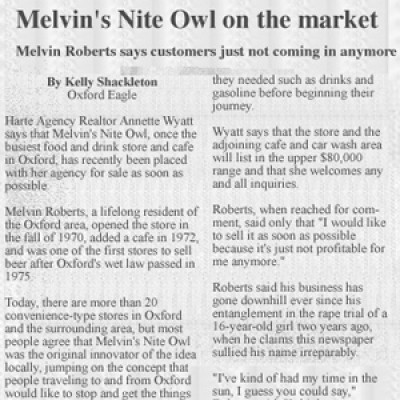 Harte Agency Realtor Annette Wyatt says that Melvin's Nite Owl, once the busiest food and drink store and cafe in Oxford, has recently been placed with her agency for sale as soon as possible.
Melvin Roberts, a lifelong resident of the Oxford area, opened the store in the fall of 1977 and added a cafe in 1979.
Today, there are more than 20 convenience-type stores in Oxford and the surrounding area, but most people agree that Melvin's Nite Owl was the original innovator of the idea locally, jumping on the concept that people traveling to and from Oxford would like to stop and get the things they needed such as drinks and gasoline before beginning their journey.
Wyatt says that the store and the adjoining cafe and car wash area will list in the upper $80,000 range and that she welcomes any and all inquiries.
Roberts, when reached for comment, said only that "I would like to sell it as soon as possible because it's just not profitable for me anymore."
Roberts said his business has gone downhill ever since his entanglement in the rape trial of a 16-year-old girl two years ago, when he claims this newspaper sullied his name irreparably.
"I've kind of had my time in the sun, I guess you could say," Roberts said. "I think someone else, maybe someone younger like I was when I started, could turn it around. I really don't see why not."
Wyatt says she will show the store to the general public on March 30 at noon. All interested parties are invited to attend the showing, where refreshments will be served.
---