Newspaper clip file – Melvin Roberts
YOKNAPATAWPHA COUNTY SHERIFF'S DEPARTMENT
Investigating Officer(s): Det. S. Murphy. Det. E. Parker
Incident No.: 003369-14G-2019
Case Description: Monica Drum homicide investigation
YCSD investigators compiled some of the articles Monica Drum wrote about Melvin Roberts and his arrest.
---
March 14, 2014
Local convenience store owner arrested for rape
Roberts of Melvin's Nite Owl professes innocence
March 14, 2014
By Monica Drum
Eagle City Reporter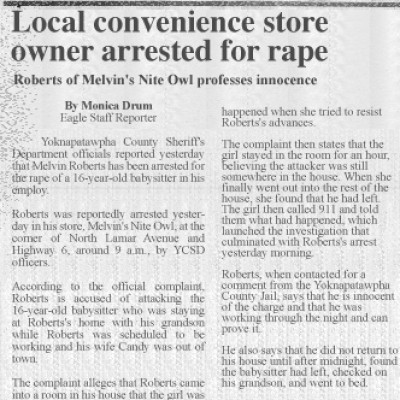 Yoknapatawpha County Sheriff's Department officials reported yesterday that Melvin Roberts has been arrested for the rape of a 16-year-old babysitter in his employ.
Roberts was reportedly arrested yesterday in his store, Melvin's Nite Owl, at the corner of North Lamar Avenue and Highway 30, around 9 a.m., by YCSD officers.
According to the official complaint, Roberts is accused of attacking the 16-year-old babysitter who was staying at Roberts's home with his grandson while Roberts was scheduled to be working and his wife, Candy, was out of town.
The complaint alleges that Roberts entered a room in his house where the girl was sleeping and forcibly raped her in the dark, telling her that he would kill her if she made any noise or told anyone.
The complaint states that the girl smelled alcohol on Roberts's breath and that she believed he was very drunk at the time of the attack. Besides the rape, the victim was also beaten and suffered a concussion and multiple contusions in the attack, as well as a broken finger, which she says happened when she tried to resist Roberts's advances.
The complaint then states that the girl stayed in the room for an hour, believing the attacker was still somewhere in the house. When she finally went out into the rest of the house, she found that he had left. The girl then called 911 and told them what had happened, which launched the investigation that culminated with Roberts's arrest yesterday morning.
Roberts, when contacted for a comment from the Yoknapatawpha County Jail, says that he is innocent of the charge and that he was working through the night and can prove it.
He also says that he did not return to his house until after midnight, found the babysitter had left, checked on his grandson, and went to bed.
Roberts's attorney, Don Margolis, who sat with Roberts throughout questioning, says that the charges are baseless and will be defeated if and when they go to court.
But YCSD spokesperson Elizabeth Jones says that the case against Roberts is very good. Physical evidence was found at the scene that implicates Roberts in the attack, and the victim's testimony against Roberts is solid, according to Jones.
The victim, who is currently recovering in a private room at Baptist Memorial Hospital in Oxford, picked Roberts out of a line-up as her attacker and also identified his voice as the voice of her attacker.
Many people in Oxford wonder how Roberts could do such a thing, but it is common knowledge among Oxford's residents that Roberts has been battling alcoholism and substance abuse for several years now, bouts of which have required him to seek professional help at clinics for rehabilitation in Tupelo and Memphis.
Roberts states that Melvin's Nite Owl will remain open its regular hours and that he expects to be back in the store in a short time to continue serving his many customers. He also says that his longtime policy of serving customers in uniform for free will no longer apply to employees of the Yoknapatawpha County Sheriff's Department.
This comment was minimized by the moderator on the site
Dr Isaiah Otis Reid JD Law Student

This comment was minimized by the moderator on the site
Tye Daniel Knox St. Dennis
There are no comments posted here yet