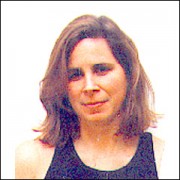 Monica Drum bio
Monica Amie Drum was born January 1, 1979, in Kent, Ohio, the only daughter of Frank and Carol Drum.
Frank Drum, then an assistant history professor at Kent State University, met associate professor of cooperative education Carol Klegner in 1977, and the couple married in December of that year. Now age 69, Frank Drum continues to teach one course per semester in semi-retirement. Carol Drum, now 70, retired from academic life in 1997 when she was appointed to the Ohio State Board of Education. She has remained active in legislative issues since then, acting as a consultant to governors and lieutenant governors as well as state legislators.
Monica grew up in a liberal environment where her parents treated her as an equal from infancy onwards. Both Frank and Carol Drum encouraged Monica to question conventions and authority, so much so that Monica's second-grade teacher wrote that Monica was "wasting her intelligence on uncooperative capers that distract the entire class."
After Monica finished the 8th grade, she and her parents decided to enroll her in independent study for high school. At age 17, she applied for admission to Kent State University and was accepted. She matriculated in the fall of 1996 and concentrated on history and philosophy, using her co-op work time to explore several different work environments, including park ranger work at a nearby state park and a term as a legislative aide in the Kent mayor's office.
But it was when Monica took an internship at the local newspaper during her third year of college that she found her calling. She joined the staff of the Daily Kent Stater, and upon completion of degree requirements at Kent State in the spring of 2001, Monica was accepted to the University of California at Berkeley's Graduate School of Journalism.
Monica spent one semester at Berkeley before dropping out to accept a position as a general assignments reporter at the Cincinnati Enquirer in the spring of 2002. She was promoted to the city bureau in 2004, where in addition to reporting duties, she was also involved in Newspaper Guild activities. At the Enquirer, she met and was briefly engaged to deputy managing editor Tommy Green. At the end of their reputedly tumultuous romantic relationship in 2010, Monica resigned, claiming she had been unfairly passed over for a promotion.
Monica worked as a freelance writer based in Ohio from 2010 to 2012 when she applied for a position as a crime reporter for the Oxford Eagle. She moved to Mississippi in September of 2012, working as a reporter from 2012 to 2015 until she became news editor in 2015. She was promoted to the position of managing editor in 2016.
Since then, under Monica's leadership, the newspaper has collected several awards for spot reporting and investigative journalism, including the Southern States Newspaper Association's award for General Excellence in 2017 and 2018. As managing editor, Monica Drum, who has remained unmarried, has become a prominent member of the community and is an honorary member of the Chamber of Commerce, the Rotary Club, and Soroptimists International.
---