Answers in Collier case
OXFORD WEEKLY PLANET
Friday, March 26, 2021
Two in custody in Daniel Collier case
Guardian, girlfriend facing murder charges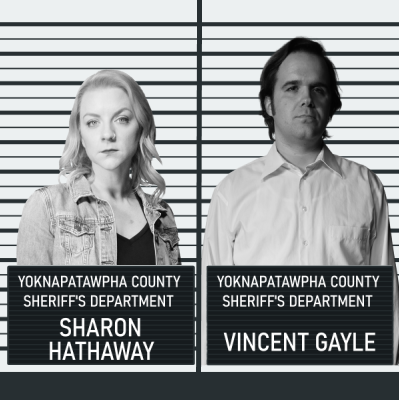 Vincent Gayle, 45, and his live-in girlfriend, Sharon Hathaway, 35, were arrested this morning in connection with the murder of Daniel Collier, whose badly decomposed body was found in a swampy area near Clear Springs Nature Trail nearly a week ago.
At a 2:00 p.m. press conference, Yoknapatawpha County Sheriff's Department Public Information Officer Elizabeth Jones said Vincent Gayle, Collier's own guardian and godfather, had confessed his role in covering up Collier's murder and concealing his corpse.
Daniel Collier, a 21-year-old artist who was making a name for himself among the Southern art scene, disappeared from his home on January 2nd of this year. For a time, friends thought Collier had left Mississippi to pursue an art career in New York as he had planned. When investigators located his vehicle at Memphis International Airport in March, it seemed to reinforce this initial theory.
Speculation along those lines ended, however, when Collier's body was located at Clear Springs rolled in a camping tarp.
"He was a good kid," said the victim's uncle, Rod Collier, a Theater Arts instructor at Ole Miss. "He had the talent and determination to make it big. I was absolutely sure he was born to cause people to stand up and take notice. Unfortunately, his guardian saw to it that that would never happen."
Daniel Collier's friends are still struggling to come to terms with what happened to him.
"I feel like I lost a brother," said Brandon Ebner, one of Collier's closest friends from high school, "I still cannot believe that he's gone."
Some, including Ebner, expressed no surprise when they learned Gayle was involved in Collier's death.
"I have no trouble believing Vince killed him. He's always prevented Danny from being the man he wanted to be."
Jones said both Gayle and Hathaway would be arraigned later in the week, at which time the details of the indictments will be announced at a separate press conference.
Hathaway's attorney, Cynthia Price, responded with a statement following the sheriff's department's press conference, saying that her client was innocent of the charges against her.
"Guilt by association, pure and simple," Price said, "They have no evidence against Sharon. She never confessed. She never killed anyone. She never concealed evidence. Her only connection to the crime is that she was dating the killer. In Mississippi or anywhere else, that's no crime."
Jones declined to comment on the evidence implicating Hathaway, saying that the sheriff's department and the district attorney's office will release more details at a later time.
Gayle and Hathway are currently being held at the Yoknapatawpha County Detention Center, pending their first court appearances.
By Kemper Jones at 3:00 PM
Additional reporting by Joanne Ebner