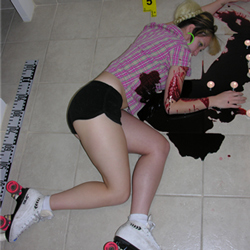 What happened
Investigation Day 1
On the evening of January 10, 2021, Emergency Services received a 911 call reporting a woman dead in a convenience store restroom.
After examining the crime scene, Detectives Armstrong and Murphy talked to the store clerk who found the body.
Then they spoke with the customer who was in the store when she and the clerk discovered the body.
Investigation Day 2
As the detectives found out more about the victim the next morning, the Oxford Weekly Planet reported on her murder.
Then CSU sent over a preliminary inventory of evidence collected plus some evidence videos.
At the suggestion of Katie's parents, Detectives Armstrong and Murphy talked to her best friend, who was with Katie the day she died.
Corrie told the detectives where Katie's ex-boyfriend lived, so they went to see him to find out more about the breakup.
Investigation Day 3
The next morning, with the help of employees at the library, Detectives Armstrong and Murphy were able to speak with the "creepy church guy" Corrie talked about.
Later the detectives asked Jimmy and Rosalie to come back in to answer some more questions about the night of the murder, now that they'd had a few days to calm down and collect their thoughts.
Investigation Day 4
Just before lunch, Detectives Armstrong and Murphy met with a man who hangs out at the skate park.
After school, they had another conversation with Corrie.
Do you know who killed Katie? Vote now