Pastor slain
OXFORD WEEKLY PLANET
Sunday, April 21, 2019
Pastor slain on Easter Sunday
Parishioners shocked by the gruesome discovery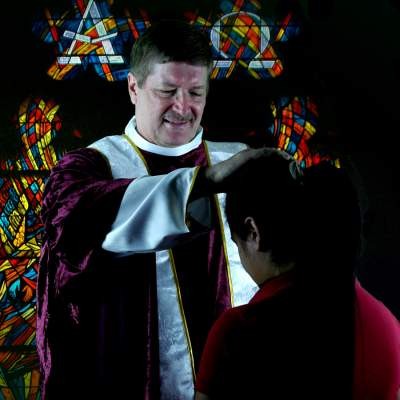 Yoknapatawpha County Sheriff's detectives are investigating the Easter Sunday death of Pastor Wendell Martinson as a homicide.
Martinson, 53, of 122 McRae Drive, was found dead before dawn today at the Fellowship of the Holy Spirit church at 99 County Road 2011. He had served as pastor of the small, independent congregation since 1995.
Martinson's body was discovered by the church's associate pastor in a classroom where materials for the scheduled Easter Sunrise service were stored, according to Elizabeth Jones, public information officer for the Sheriff's Department.
"We're still in the very early stages of the investigation and are not prepared to name any suspects at this time," Jones said. "We're actively pursuing several leads. This case is a top priority for the department."
Jones would not say how the pastor died but confirmed that his death does appear to be the result of foul play.
Associate pastor Leo Ingram declined to comment on his gruesome discovery, saying "the Sheriff's Department has asked me not to talk about it, and I want to do everything I can to help them in their investigation."
Members of the congregation, who arrived at the country church expecting to attend the annual Easter Sunrise service, were instead greeted by squad cars and crime scene tape.
Sheriff's deputies shepherded the church members into the sanctuary, which is located in a separate building from where Martinson's body was found. Church elders led an impromptu prayer service as the parishioners sought spiritual comfort to cope with their loss.
"I knew the sunrise service might be canceled and held indoors because it's so cold," said church member Lila Harris, "but never in my wildest dreams did I ever expect anything as horrible as this. Who would do such a thing? And on Easter Sunday?"
Elder John Loundes agreed. "This is a terrible tragedy and a devastating loss for our congregation and for the community as a whole. We take comfort in the knowledge that God has a plan, even at times like this when that plan is beyond our understanding."
Before coming to Oxford, Martinson and his wife served as missionaries in South America. The story of Wendell Martinson's calling to enter the ministry instead of becoming a medical doctor is well known to the faithful throughout Yoknapatawpha County.
Reverend Gideon Horner characterized Martinson as "a devoted man of God, dedicated to his family and wholly committed to serving his congregation and his community."
"For me personally," Horner added, "Wendell was an inspiring spiritual leader and a beloved friend. I'm a better man for having known him, and I will miss our camaraderie every day until we are reunited in Heaven."
Wendell Martinson is survived by his wife, Lynette, and his sons, Emanuel and David. Calls to the Martinson residence were not returned.
Check back for updates on this developing story.
By Oxford Weekly Planet News at 3:55 PM
---