Seeking the public's help
OXFORD WEEKLY PLANET
Monday, November 4, 2019
Do you know this person?
Neighbor's security camera captures potential witness in socialite slaying
The Yoknapatawpha County Sheriff's Department has released a video of what could be a witness in the Kelly Moran homicide investigation.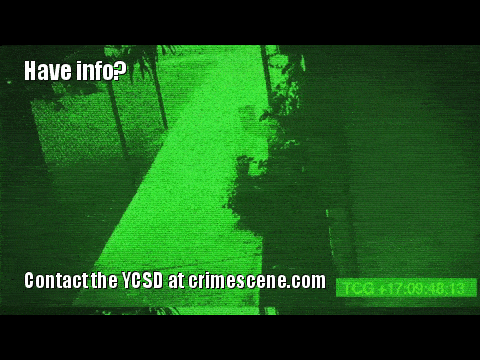 The video, captured by a residential security camera on Park View Lane the night Oxford socialite Kelly Moran was found dead, shows a person walking not far from the Moran residence near the time Kelly Moran is believed to have died.
If you have any information about the person in the video, you're asked to contact the sheriff's department at crimescene.com.
Neighborhood watch
The vigilant neighbor, who asked not to be identified, said he provided the video to the sheriff's department when he noticed it was recorded the same night Mrs. Moran had died.
The neighbor lives adjacent to Lamar Park and said he had installed security cameras after body parts were found in Lamar Park in 2017.
Detectives later connected those body parts to the murder of Oscar Knight, whose severed thumb was found at the Rebel Inn prior to the discovery of the body parts in Lamar Park.
Two suspects were arrested in that case and are currently awaiting trial.
High society murder?
Kelly Moran died on October 30. Her husband, assistant district attorney Russell Moran, reportedly found her body when he arrived home from work and called 911.
An autopsy found that Mrs. Moran died from an opiate overdose. The sheriff's department confirmed that Moran had been taking prescribed opiate painkillers for several years before her death to treat chronic pain from a car accident.
However, the coroner's report listed the manner of death as undetermined, which suggests that the medical examiner is not convinced the death resulted from an accidental or suicidal overdose.
According to a source inside the coroner's office, evidence observed at the scene and at autopsy indicates that Kelly Moran's death likely resulted from outside forces.
Sheriff's department mum
The sheriff's spokesperson, Elizabeth Jones, said the department is pursuing several avenues of investigation in the case but would not comment on whether they have identified any suspects.
"The detectives have several promising leads, including this security video. If anyone has any information, we ask that they get in touch with us."
Jones said persons coming forward with information may remain anonymous.
By Kemper Jones at 9:31 AM
---