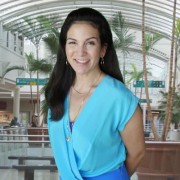 Karen West biography
Karen T. West was born in Palm Beach, California, to Vincent and Paula Tweed on November 13, 1975.
Karen grew up an only child in a house with twelve bedrooms. She attended private schools, vacationed in Europe, and talked her way out of two DUIs in 1997 on the strength of her father owning a chain of exclusive hotels.
Karen reacted to the economic downturn before it happened, vowing not to take a job away from someone who really needed the money.
During a ski weekend in Aspen, Colorado, she met Michael West on the slopes. The two spent the day together and then flew the following weekend to Switzerland.
Despite Michael living in Oxford, Mississippi, the couple's relationship soon turned serious, and in 2012, Karen moved east to live with him.
They married on May 3, 2014. Her parents were not in attendance.
Neighbors say the adjustment has not been easy for Karen. Michael works long hours, and Karen has been seen wandering the grounds of their estate.
Even after seven years, she hasn't found a community in Oxford, settling for a few close friends who comprise the bulk of her social interactions.
She met Kelly Moran at a health spa in early 2013, and Kelly eventually welcomed Karen into her circle.
Karen and Michael have no children.
---