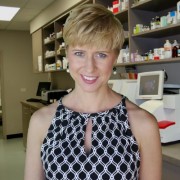 Lorraine Estrada biography
Lorraine Sherman Estrada was born on June 1, 1980, in Nashville, Tennessee. Her mother, Nicole Sherman, worked for a local compounding pharmacy. Her father, Larry Sherman, was a physical therapist until he passed away in 2017.
Growing up as an only child, Lorraine had few friends her age. Her closest companion was her aunt Sydney, who had waitressed her entire life to support her increasingly unlikely dream of becoming a country singer. Sydney, hoping to pass on her unfulfilled dream to her niece, enrolled Lorraine in child modeling and guitar lessons with moderate success.
At age seventeen, Lorraine had made up her mind to make the most of living in "Music City" and pursue her dream of a music career. Yet mounting pressure from Lorraine's parents and the sudden death of her aunt due to a drug overdose ultimately led to her decision to attend college at Vanderbilt University instead.
After graduating in 2002 with a degree in microbiology, Lorraine immediately went on to pharmacy school at the University of North Carolina, Asheville. She earned her Doctor of Pharmacy degree in 2006 and bounced around jobs for the next three years at various retail pharmacies.
Lorraine moved to Oxford, Mississippi, in 2009 upon accepting a job offer at Gordon's Pharmacy. In 2013, she was promoted to head pharmacist. That year proved especially auspicious for Lorraine, as it was also the year that she met and married David Estrada, her current husband.
Although Lorraine has given up on becoming a country singer, she still enjoys the pastime and frequents The Blind Pig for an occasional two-step dance and onstage performance. She met Kelly Moran, another loyal patron, during one of the pub's karaoke nights in early 2012. The two bonded over a smashing duet performance of Dolly Parton's "Backwoods Barbie" and remained close friends up until Kelly's untimely death.
---