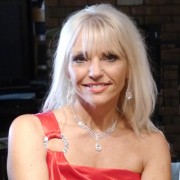 Kelly Moran biography
Kelly Diane Schrader was born on May 29, 1979, in Miami, Florida. Her mother worked three jobs to support Kelly and her younger sister. The identity of her father remains unknown to this day, as he left his family before Kelly's first birthday.
Even as a child, Kelly's obsession with her physical appearance was apparent. Teachers frequently called home due to such habits as showing up late to school after spending hours in front of the mirror perfecting her makeup and refusing to participate in gym class for fear of ruining her hairdo. During her teenage years, Kelly was caught several times for shoplifting at department stores.
Despite her poor academic record, Kelly attended beauty school in 1997 and graduated top of her class a year later. She went on to manage two hair salons in the Tampa Bay area until a falling out with the owner resulted in her resignation in 2001.
After a brief period of unemployment, Kelly landed a job as a sales associate for a local marketing firm through the recommendation of a former client. In 2004, she met Russell Moran when the company hired him as a consulting lawyer over a dispute of intellectual property rights with a rival business.
Sparks flew between Kelly and Russell as they worked together, and no one was surprised when they began formally dating after the lawsuit was settled. Six months later, Russell proposed. Since this was Kelly's third engagement in almost as many years, everyone was surprised when the couple married in early 2005.
In 2009, the Morans moved to Oxford, Mississippi. Russell was eager to return to his hometown for the opportunity to run for city office in the future.
Kelly went along reluctantly, having always disliked the small-town atmosphere but unwilling to give up the financial security her husband provided. She remained unemployed for the duration of their time in Oxford and entertained herself by socializing with friends at local pubs or one another's houses.
Shortly after the move, Kelly was involved in a car accident that left her hospitalized for two weeks. She was prescribed pain medication after being diagnosed with whiplash and a spinal fracture. Although the injuries she sustained were categorized as mild, Kelly reported to her physicians that she continued to suffer chronic, crippling pain. She maintained regular appointments with her pain management doctor and refilled her painkiller prescription every month like clockwork.
---