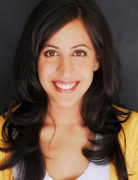 Pilar Adams bio
Pilar Adams was born in San Antonio, Texas on May 15, 1993, to Sam and Linda Adams. In 1998, the family moved to Memphis, Tennessee where Sam got a job in a factory. Although money was always short in the household, they were able to make ends meet with Linda picking up temporary jobs waitressing and checking out at grocery stores.
Pilar strove to maintain good grades during her school years. Although not blessed with a lot of natural intelligence, Pilar always pleased her teachers with her effort and dedication. She worked hard and received mostly low B's and some C's for her grades, but she was always well-liked and welcome in every class.
Since money was tight for the Adams family, Sam usually fixed things around the house instead of buying new or taking anything to a repair shop. Pilar often watched him work on the toaster that wouldn't pop up or the fan in the bathroom that wouldn't run. As the years passed, she began making her own repairs.
As high school graduation approached, Pilar was disappointed with her prospects for college. Her grades were unremarkable, and her test scores were really disappointing. Certainly, she had no reason to receive any scholarships. She applied for financial aid, but the grants weren't enough to live on. So Pilar moved to Oxford, Mississippi, and got a job.
After she established residency, Pilar enrolled at the University of Mississippi where she occasionally takes some courses and then takes a semester off whenever she needs to work more. Her interest is in psychology, but she struggled through the classes. Just like in high school, she worked hard but rarely made above a C.
Her relatively poor academic performance made it hard for her to justify taking out student loans, so recently, Pilar has primarily just worked for the university. She gets a small discount and takes classes when she has time. Right now, she would describe herself as being in a bit of a rut, just working and not really aiming towards anything.
---
$ 8.00 $ 7.00 This sturdy, bright yellow lanyard printed on both sides with "CRIME SCENE DO NOT CROSS" in black letters. Shop Now

$ 25.00 $ 16.00 A wall chart illustrating common fingerprint comparison characteristics. Shipped in a protective cardboard tube. Shop Now

$ 44.00 A real print kit, fully stocked with instructions and enough supplies for at least 50 different print lifts. Shop Now

$ 75.00 $ 60.00 Examine the evidence to solve a murder. Dust evidence for prints & test fabric for the presence of blood. Shop Now

$ 8.00 Contains 2 of each size paper and plastic bags (large, medium and small.) Use for real evidence or fun. Shop Now

$ 30.00 – $ 33.00 Jackets feature a detective shield printed in white on the front and FORENSICS in large white type on the back. Shop Now

$ 25.00 $ 22.00 Create a professional crime scene sketch quickly. Shop Now

$ 44- 54 explores a different crime scene processing technique each month. Shop Now

$ 4.50 – $ 150.00 The standard FBI fingerprint card, form No. FD-258 version: 11-1-20 used for noncriminal fingerprinting Shop Now