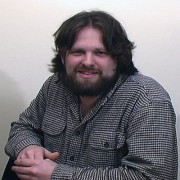 Tate Moore bio
Tate Martin Moore was born November 8, 1983, to Sally and Jeb Moore in Oxford, Mississippi. Tate was a social and happy kid who found a way to make music out of just about anything. His first musical instruments were Sally's pots and pans, and later his parents bought him toy instruments whenever they could afford them. For his tenth birthday, his parents saved enough money to buy him a top-quality harmonica, which Tate has carried with him ever since and will play whenever asked.
As a kid, Tate was small and wiry and never went out for sports. He decided he'd rather be the class clown, and he entertained all the other kids with his one-man shows. In high school, he worked every day after school at Oxford Music Store to earn enough money to buy his own instruments. His first purchase was an acoustic guitar, and he later added several other instruments to his collection, including an electric guitar, a bass guitar, and an electronic keyboard.
Tate also wrote songs for the high school football team, which, though risqué, became legendary. He managed to graduate high school with a 2.75 average and opted not to go on to college. He had a calling for music and followed his dream.
Currently, Tate plays guitar and sings with the Kudzu Kings, which he and some friends founded in 1994. Known throughout the Southeastern college and club circuits, the Kings have developed a unique blend of country, bluegrass, and improvisational rock n' roll that has appealed to audiences of all types and ages. They have taken their sound cross-country and appeared with such diverse heavyweights as Widespread Panic, Leftover Salmon, Junior Brown, and Jimmie Dale Gilmore, garnering rave reviews along the way.
When Tate isn't playing music and entertaining friends, he enjoys working on and refurbishing classic cars. He is currently single and enjoys playing the field.
When he wants to supplement his musician's income, he works at a local pizza restaurant. When his former boss calls saying they need extra help, he picks up a groundskeeping shift or two at Rowan Oak, legendary home of William Faulkner.
Additionally, Tate sometimes participates with the Oxtales Theatre group. In late 2018, he met director Andrea Stover, and she asked him to help with a production. He was involved in the infamous "Snopes" production but was not prosecuted. He continues to work with the group whenever he has time.
---