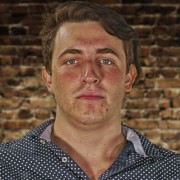 Jordan Rodale bio
Jordan Lucius Rodale was born July 17, 1983, to Thomas Rodale and Margaret "Margie" Rodale in Murfreesboro, Tennessee. Thomas, a civil engineer, married Margie two years after she was widowed, and the small family they formed with her son, Devlin, welcomed Jordan's birth. In 1986, Thomas Rodale moved the family to Oxford, Mississippi.
Growing up, Jordan always felt different like he just didn't fit in, and his older brother's popularity only intensified Jordan's feelings of isolation. When he accepted a scholarship to Bennington College in Vermont, he finally found a place where he was comfortable, and an Advanced Composition class his sophomore year changed his life.
Margie Rodale was a prolific letter and diary writer and encouraged her sons to read extensively. And in the evenings after the boys were in bed, she would pour a glass of wine and write in her journal. Sometimes, these sessions would only last a couple of hours, and other times, she would scribble until early in the morning.
Although Jordan was unaware of any literary ability of his own while he was growing up, in that sophomore English class at Bennington, Jordan discovered he had a real talent for essays and memoirs.
Also in that Advanced Composition class, Jordan met his first real boyfriend, Vasca Pellerano, the blond son of a Spanish politician. Over the semester, the two students formed a friendship that blossomed into romance during the fall semester exams.
Vasca showed Jordan that history could be exciting and fun, and Jordan began reading historical novels and writing stories set in the past.
For his senior project, Jordan wrote a novel about Spanish explorers combing the earth in search of gold. With Vasca's research help, Jordan completed a massive 600-page manuscript. An admiring writing professor made some calls, and before Jordan knew it, Conquistador Maps was snatched up by a major publishing firm.
Jordan's elation at becoming a published writer was tempered by Vasca's return to Spain. Vasca had family obligations there, and Jordan wasn't willing to move to Spain, so the two lovers achingly parted.
Jordan returned to Oxford, where his reputation as an author brought him new acceptance in the literature-loving town. The moderate success of Jordan's 2006 novel, Love in the Shadow of the Guillotine, cemented his image as a writer of popular-if-not-literary books.
In 2008, Jordan's brother, Devlin, moved back to Oxford after their mother suffered a debilitating stroke, but their shared family crisis didn't bridge the gap between the two men. They rarely spoke and usually only on matters related to their mother's care.
After Margie passed away the following year, the brothers tried to rebuild their relationship, but when her lawyer read from her will the words "I leave all my worldly possessions to my firstborn son, Devlin," it destroyed any progress the two men had made. An ugly court battle ensued, and after several months, Devlin agreed to give Jordan some small pieces of the estate just to end the lawsuit.
Jordan's 2012 novel, March of the Crusaders, didn't even dent the bestseller lists. Hoping to quickly erase the failure, Jordan accepted a sizable advance for another book. After many frenetic nights at his computer, Jordan submitted Panning for Gold in early 2014, but his tale of the gold rush was poorly researched and even more poorly written. His agent reluctantly told him that the publishers insisted he return the advance, so Jordan wiped out his savings to pay them back.
In 2015, Jordan met Memphis architect Bennett Estes Kauffman at a party, and the two began dating. As much as Bennett's presence improved Jordan's life, maintaining his high society lifestyle was draining Jordan financially.
With mounting debts, Jordan decided to leverage the memoir craze by writing about growing up gay in a small Southern town. To pique publishers' interest, the book would also probe the mysterious circumstances surrounding the death of Margie Rodale's first husband. The publisher was initially skeptical, but when Jordan promised to include excerpts of his mother's voluminous journals, they issued an advance.
In May 2017, Jordan began work on this book and asked Devlin for their mother's journals, but Devlin refused, saying they were her most personal items, which she left to him because of their shared devotion to keeping diaries. No matter how much Jordan begged, cajoled, or threatened, Devlin wouldn't relent.
A year later, Jordan reached an impasse on his book. He'd written all he could without the journals, and he'd spent the advance. With no way to pay back the money, he had no choice but to get the journals and finish the book.
---