Victim identified
OXFORD WEEKLY PLANET
Friday, April 22, 2022
Kelly Woods murder victim identified
Area residents provide details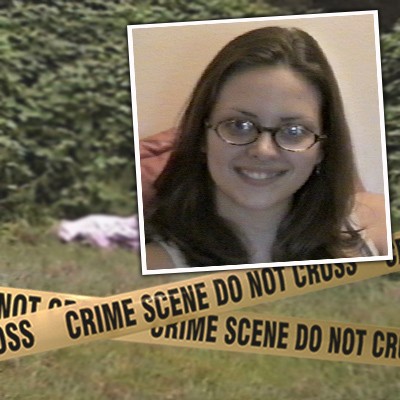 The Yoknapatawpha County Sheriff's Department has positively identified the body found in Kelly Woods last Saturday as Wendy Pane Holloway, a newcomer to Oxford. The body was found by equipment operator Miles Jackson, who had been working nearby at the Kelly Green construction site.
Yoknapatawpha Sheriff's Public Information Officer Elizabeth Jones said, "Thanks to information provided by Oxford residents, we have been able to identify the victim and are continuing to move forward with the investigation."
Pearce Brokers agent Sally Stoppard alerted authorities that Holloway was missing.
"It's just horrible," Stoppard said. "That poor girl. She just moved here a few months ago and to end up like this. It's just terrible."
Stoppard said Holloway rented a furnished home from her agency late last year. The residence is owned by folk artist "Catfish" Jim Logue, who is currently studying pottery techniques in the Tuscan countryside.
Authorities are not releasing many details on the status of their investigation.
"Identifying the victim was a major step," Jones said, "but we still have a long way to go. We are committed to solving this crime as soon as possible and bringing the responsible party or parties to justice."
The 28-year-old Holloway was an independent contractor in the information technology industry. Though Holloway moved to Oxford from Seattle, Washington, she was originally from Pittsburgh, Pennsylvania.
She is survived by her mother, Elizabeth Pane, and her brother, Peter Pane. Funeral services are tentatively scheduled for next week in Pittsburgh.
By Kemper Jones at 4:49 PM
---
$ 8.00 Contains 2 of each size paper and plastic bags (large, medium and small.) Use for real evidence or fun. Shop Now

$ 75.00 $ 60.00 Examine the evidence to solve a murder. Dust evidence for prints & test fabric for the presence of blood. Shop Now

$ 30.00 – $ 33.00 Jackets feature a detective shield printed in white on the front and FORENSICS in large white type on the back. Shop Now

$ 44.00 A real print kit, fully stocked with instructions and enough supplies for at least 50 different print lifts. Shop Now

$ 8.00 $ 7.00 This sturdy, bright yellow lanyard printed on both sides with "CRIME SCENE DO NOT CROSS" in black letters. Shop Now

$ 25.00 $ 22.00 Create a professional crime scene sketch quickly. Shop Now

$ 4.50 – $ 150.00 The standard FBI fingerprint card, form No. FD-258 version: 11-1-20 used for noncriminal fingerprinting Shop Now

$ 25.00 $ 16.00 A wall chart illustrating common fingerprint comparison characteristics. Shipped in a protective cardboard tube. Shop Now

$ 44- 54 explores a different crime scene processing technique each month. Shop Now