Columnist slain
OXFORD WEEKLY PLANET
Sunday, May 24, 2020
OWP columnist Zoe Chase slain in possible carjacking
Body Discovered by Teen near Highway 6 East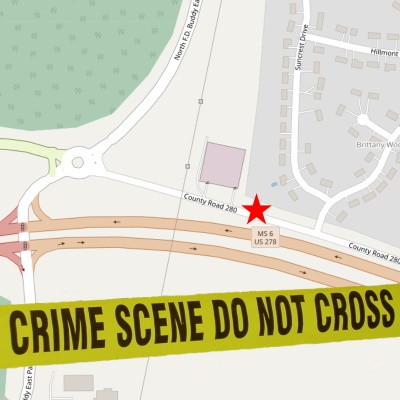 Yoknapatawpha County Sheriff's Department deputies were called to a gruesome scene on Highway 6 East early this morning to investigate the apparent murder of Oxford Weekly Planet columnist, Zoe Chase.
Officials say the deputies responded to a 911 call from witness Beau Jenkins, 17, at approximately 7:05 a.m. Jenkins made the grisly discovery while on his way to deliver food on behalf of St. Andrews United Methodist Church to a nearby church member.
Jenkins told the Crime Beat, "I was just driving down the road when I saw something strange over to the side, and I pulled over to check it out. I couldn't really tell what it was 'til I got right up on it, but then I saw it was a woman, and when I recognized it was Zoe [Chase], I couldn't believe it."
Yoknapatawpha County Sheriff's Department Public Information Officer Elizabeth Jones said in a prepared statement that Chase's body was discovered at the Oxford city limits, on the shoulder of an access road alongside Highway 6 East. Official autopsy results are pending, but initial indications are that Chase suffered gunshot wounds to the head and chest.
Answering questions from reporters, Jones said Chase's 2019 Ford Explorer was found abandoned in a ditch about 150 yards from the location where the body was found. When asked if Chase was the victim of a carjacking gone wrong, Jones said detectives are not ruling out any possibilities at this time, but declined to comment on the specifics of any leads or suspects they are pursuing in the case.
Zoe Chase, 35, came to Oxford in 2017 and has been a popular columnist with the Oxford Weekly Planet magazine since her arrival.
Chase was also active with the Yoknapatawpha County Literacy Council and was a prominent member of the Oxford Writers Circle, which meets monthly at Square Books. According to Steven Atwater, founder of the Oxford Writers Circle, Chase did attend the group's meeting Saturday evening.
Atwater said, "Zoe was a valued part of the Oxford Writers Circle, and her contributions will be missed."
Atwater also said Chase was on the verge of making a deal with a major publishing house for her first novel. She was scheduled to sign the contract later this week, with the book slated to be published in Summer 2021. The fate of that book is unknown in the wake of her untimely death. Kathy Silverman, Chase's literary agent in New York City, could not be reached for comment.
Family members are expected to arrive in Oxford today to make memorial and funeral arrangements for Zoe Chase. Details will be released later this week.
Check back for updates on this developing story.
By Kemper Jones at 7:22 PM
---