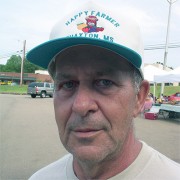 Chas Laughlin bio
Charles "Chas" Edward Laughlin was born May 22, 1965, in Hattiesburg, Mississippi, the second youngest of Rufus and Elsie Laughlin's eight children.
Elsie ran an unlicensed child-care center out of the family's battered double-wide trailer on the outskirts of Hattiesburg's low-end blue-collar section.
Rufus drove a city bus for 40 years. Though he was three times promoted to a supervisory position, each time, he was "sent back to the line" within a year for failures or policy violations.
At the end of every workday, Chas saw his father come home and first drown his resentment with cheap bourbon, then take it out on his wife or children—whoever was closest.
As a young man, Chas found work at a nearby service station, and he developed a knack for repairing cars and taking advantage of the unwary. By eighth grade—the year he dropped out of school—he was small-town street smart and well-versed in making a fast and dishonest buck. The only thing holding him back was an explosive temper and a drinking problem, both inherited from his father.
At 15, he was hauled into juvenile court for joyriding; at 17, for assaulting a customer who caught him falsifying car repairs; and on his 18th birthday, he was arrested for beating one of the garage's employees who threatened to tell the owner that Chas was dipping into the till.
Chas spent 18 months in minimum security at the Mississippi State Penitentiary in Parchman, MS. He enrolled in the automobile maintenance and repair program at the prison, where he made contact with other like-minded inmates who gave him an advanced education in chop shops, "cooking the books," and many other skills.
Chas left prison with a GED, several mechanic's certificates, and a full list of contacts. For the next ten years, he worked at repair shops and garages across Mississippi, Louisiana, and Texas, always leaving just before his scams were discovered, staying one step ahead of the law and keeping his criminal contacts active.
In Tyler, Texas, he met JoAnna Deckard, a 24-year-old barmaid with three children by three previous boyfriends. They married in 1987, two months after their child was born.
While Chas was working at the TruService Auto Repair Shop in Oxford in 1994, JoAnna demanded that they settle down.
Two years later, when the shop's aging owner became ill, Chas used his bookkeeping skills to convince the ailing owner the shop was worth much less than it was. Chas then bought it for a fraction of its true value. Chas changed the name to Laughlin Automotive & Body Shop and put all he had learned to work.
For the last twenty-odd years, Chas has conducted his business at his shop in Oxford. Although he has occasionally been visited by law enforcement during that time, he has avoided any return to Parchman.
Chas is thinking about retirement soon and is taking steps to pass down his business to his son, Gage. At 30 years old, tough-talking, hard-drinking Gage has learned everything he knows from his father.
---