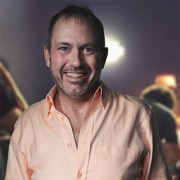 Rodney Collier bio
Rodney Collier was born to John and Theresa Collier on June 9, 1972. Rodney's parents were minor supermarket moguls, owning and running three grocery stores in and around Oxford for the better part of four decades from 1973-2010. The grocery business consumed most of the young lives of Rodney and his younger brother, Mark, comprising their first "jobs" as shelf stockers, mop handlers, and later, cashiers/checkers.
By the time the boys were in high school, they already had plans for their futures that didn't include selling groceries. Mark was steadfastly in pursuit of hot cars, pretty girls, and a future acceptance letter from Ole Miss, not necessarily in that order.
Rodney was equally precocious but much more reserved in high school. He had been questioning his sexuality since he was thirteen and hid it from everyone around him, including his parents who he knew would not be able to accept it. Rodney felt the only way he would be able to truly understand himself was to get out of Oxford and away from those who knew him. He got his wish in 1990 when he earned a full-ride scholarship to the University of North Carolina.
Initially interested in mathematics, Rodney became involved in theatre during his sophomore year as a way to deepen his personal platonic relationships with a crowd more accepting of homosexuality. In the process, he found that he was a talented actor. His celebrated turn as Joseph Percival in George Bernard Shaw's play Misalliance even brought John and Theresa the 700 miles to Chapel Hill for his final show during the 1991-1992 season.
Rodney's proud parents would depart North Carolina devastated, however, when one of Rodney's fellow actors accidentally outed him by joking that Rodney would not have chased the play's heroine Hypatia "through the heather" in real life. It would be the first and the last of Rodney's plays that John and Theresa attended. His family, including his brother Mark, disowned him and rarely spoke his name, even during the holidays.
After he graduated from UNC, Rodney bounced around theatre groups in the South, acting and teaching acting. His longest stint was in Athens, Georgia, where he was a guest lecturer at the University of Georgia and a member of the Circle Ensemble Theatre Company for six years. During his 30s, Rodney was an active voice for gay rights, pushing for HIV treatment advances, for gay marriage initiatives, and for the ability for gay men to donate blood.
The first time Rodney returned home to Oxford since college was in 2012 for his brother's funeral. John Collier had already died in 2010, and Theresa was suffering from Alzheimer's disease. Rodney was heartbroken when he discovered that Mark had chosen a non-family member to raise his nephew Daniel, but settled back in Oxford anyway to take care of his steadily-declining mother until her death in 2016. Rodney currently teaches acting at Ole Miss.
---
$ 25.00 $ 16.00 A wall chart illustrating common fingerprint comparison characteristics. Shipped in a protective cardboard tube. Shop Now

$ 4.50 – $ 150.00 The standard FBI fingerprint card, form No. FD-258 version: 11-1-20 used for noncriminal fingerprinting Shop Now

$ 25.00 $ 22.00 Create a professional crime scene sketch quickly. Shop Now

$ 30.00 – $ 33.00 Jackets feature a detective shield printed in white on the front and FORENSICS in large white type on the back. Shop Now

$ 8.00 $ 7.00 This sturdy, bright yellow lanyard printed on both sides with "CRIME SCENE DO NOT CROSS" in black letters. Shop Now

$ 75.00 $ 60.00 Examine the evidence to solve a murder. Dust evidence for prints & test fabric for the presence of blood. Shop Now

$ 44.00 A real print kit, fully stocked with instructions and enough supplies for at least 50 different print lifts. Shop Now

$ 8.00 Contains 2 of each size paper and plastic bags (large, medium and small.) Use for real evidence or fun. Shop Now

$ 44- 54 explores a different crime scene processing technique each month. Shop Now