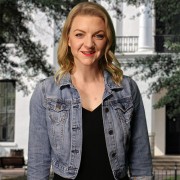 Sharon Hathaway bio
Sharon Marie Hathaway was born on July 7, 1985, in Oxford, Mississippi. Her mother, Claudia, worked as a file clerk for the Yoknapatawpha County School District to support herself and her daughter. Sharon's longtime childhood babysitter, Annette Sommers, described Sharon as a bright and charming child who seemed well-adjusted despite the difficulty of being raised by a single mother who struggled financially.
A short time after Sharon graduated from high school, her mother married a man named Ryan Kerr, and the two of them moved to Tampa, Florida. Unable to afford college, Sharon decided to stay in Oxford and worked a number of odd jobs in customer service and retail.
In 2015, Sharon met Vincent Gayle when he came into McEwen's Restaurant, where Sharon was working as a server, and they immediately began dating. After a few months, Vincent introduced her to then-15-year-old Daniel Collier, who had been in Mr. Gayle's care since his parents died in 2012.
Sharon was moved by Daniel's tragic loss and tried to become a surrogate mother-figure for him, but the moody teenager was having none of it. Vince urged her not to take it personally, assuring her that Daniel had been like that with everyone since he started high school.
In late 2018, after a bitter argument with her roommate, Allison Kennedy, over household expenses, Sharon moved in with Vince and Daniel to let tempers cool. She and Allison eventually made up after Allison agreed to pay the entire electric bill, which shot up when she had adjusted the thermostat beyond the agreed-upon limits and forgot to put it back. But even after the friends reconciled, Sharon stayed at Vince's and never moved back to the apartment that she had shared with Allison.
Sharon quit her job at McEwen's in 2019 to work from home as a freelance transcriptionist. She and Allison still see each other frequently for dinner or drinks, sometimes with other friends and sometimes on their own.
With her girlfriends, Sharon always speaks well of Vince and typically complains only about minor annoyances like his leaving dirty socks on the floor instead of in the hamper. Her friends think Sharon is more intent on marriage than Vincent is, but when they ask her about it, she says she's happy with her life exactly as it is and wouldn't change a thing.
---