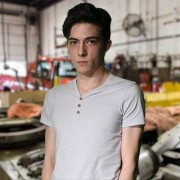 Daniel Collier bio
On May 12, 2000, Daniel Collier was born to Mark and Amanda Collier, natives of Oxford, Mississippi.
A mechanical engineer by trade, Marc went to work for the Ole Miss Composite Materials Research Group's Pultrusion Lab on the same campus where he'd been a student.
In 2007, Mark was hired away by Olin Corporation's Winchester Division, which was moving its operations away from Illinois to Oxford. Mark's job was to design and maintain manufacturing equipment that produced sporting and small caliber military ammunition.
By this time, Amanda Collier, an urban planner, had been working with the City of Oxford Planning Department for eight years.
The Colliers' lucrative careers offered a young Daniel every advantage growing up. Though he never went to private school, Daniel had access to an extensive library and workshop within the Colliers' large country-style home on the shores of Wellsgate Lake.
By virtue of his job, Mark always had a copious supply of machines in the shop to work on (with Dan as his little helper) as well as Winchester rifles and ammunition to take his boy hunting. By the time Daniel started at Yoknapatawpha Middle School, he already knew that he wanted to be just like Dad when he grew up.
Then, on December 7, 2012, Mark Collier was promoted to chief engineer of Olin's new centerfire manufacturing facility. Mark and Amanda celebrated Mark's promotion on the town that night while Daniel was at a sleepover at his friend Brandon Ebner's house.
The next morning, Mark didn't come to pick up Daniel at the arranged time. Elise Ebner, Brandon's mother, called the Colliers, but there was no answer. Worried, Joe Ebner drove Daniel home and waited to make sure he got inside. Using the spare key, Daniel entered his home.
Joe was about to leave when Daniel came running out of his house, screaming. Joe called 911 on his cell phone. When the firemen and paramedics arrived, they found Mark and Amanda in their bed, dead of carbon monoxide poisoning. The cause was found to be an incorrectly-installed water heater for the couple's new hot tub.
Daniel's only living grandparent, Mark's mother Theresa, was suffering from Alzheimer's disease, so the Colliers' will named Daniel's godfather, Vincent Gayle, as his guardian. Vincent took Daniel in and supported him as well as possible, but he didn't have the income the Collier family had had.
His parents' deaths changed Daniel. The happy-go-lucky 12-year-old turned brooding and taciturn throughout his high school years. He even kept his closest friends like Brandon Ebner at bay at times. The only way that Daniel expressed his feelings was through art, especially with paint.
It started as spontaneous outlaw tagging for Daniel as an early teen. Over time, it blossomed into intricately-detailed airbrush work that amazed not just his teachers. His work even impressed the local art community when his art teacher, Kristina McCarthy, arranged for a showing at the C'est Belle Gallery downtown.
Some of his best pieces recalled the times he spent with and without his father: old machine parts reborn as canvases for scenes of family, longing, and love, or darker pieces conjuring up feelings of emptiness, hopelessness, and cold rage.
Daniel was initially taken aback when many of these pieces sold. Eventually, he came to believe he could make a living as an artist. After graduation, he set out to make that dream a reality.
Believing Oxford lacked the resources for the art education or experience he needed, Daniel spent a year searching out the best places to advance his painting skills. He ultimately settled on New York City, home to several premier airbrush studios and stomping ground of famed New England automotive airbrush artist and instructor Scott MacKay.
With a little luck and lots of determination, Daniel thought he could work his way up to become one of MacKay's best students. He hoped to eventually paint for Thin Air GraFx Studio in Amesbury, Massachusetts.
---
$ 25.00 $ 16.00 A wall chart illustrating common fingerprint comparison characteristics. Shipped in a protective cardboard tube. Shop Now

$ 4.50 – $ 150.00 The standard FBI fingerprint card, form No. FD-258 version: 11-1-20 used for noncriminal fingerprinting Shop Now

$ 25.00 $ 22.00 Create a professional crime scene sketch quickly. Shop Now

$ 30.00 – $ 33.00 Jackets feature a detective shield printed in white on the front and FORENSICS in large white type on the back. Shop Now

$ 8.00 $ 7.00 This sturdy, bright yellow lanyard printed on both sides with "CRIME SCENE DO NOT CROSS" in black letters. Shop Now

$ 75.00 $ 60.00 Examine the evidence to solve a murder. Dust evidence for prints & test fabric for the presence of blood. Shop Now

$ 44.00 A real print kit, fully stocked with instructions and enough supplies for at least 50 different print lifts. Shop Now

$ 8.00 Contains 2 of each size paper and plastic bags (large, medium and small.) Use for real evidence or fun. Shop Now

$ 44- 54 explores a different crime scene processing technique each month. Shop Now