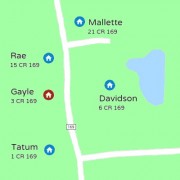 Canvass – Gayle neighbors
On March 6, 2021, YCSD Investigators conducted a canvass of Vincent Gayle's small Alesville neighborhood seeking information on the potentially-missing 20-year-old Daniel Collier.
The neighbors were asked about the last time they saw Daniel and any recent interactions they may have had with his guardian, Vincent Gayle, and/or Mr. Gayle's girlfriend, Sharon Hathaway.
The interviews are presented in summary and not verbatim and are representative of all interviews conducted.
---