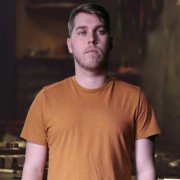 Brandon Ebner bio
Brandon Ebner was born on April 8, 2000, in Raleigh, North Carolina, the second and youngest child of Joseph and Elise Ebner. Joe was a warehouse manager for Newcastle Building Products Corporation, and Elise was a homemaker and part-time photographer. Joanne, Brandon's older sister, was born in 1994.
In 2001, just after Brandon's first birthday, Newcastle Building moved their business overseas and shuttered their American warehouses, leaving the Ebner family without their primary source of income. Joe moved his family in with his wife Elise's parents in Oxford, Mississippi, while he looked for a new job. Within months, Joe went to work at Johnson's Furniture Showroom and worked his way up the ladder to become one of their best salesmen.
Unfortunately, Joe's workload left little time for young Brandon, who became clingy in response, not letting go when Joe was ready for work and waiting with tears in his eyes whenever Joe came home later than he promised.
As Brandon got older, he adjusted to his father's long work hours by adopting his mother's passion—photography. From a young age, Brandon loved to take pictures. He studied Elise's photography books and loved the sharp-focused landscapes of Ansel Adams, the close-up botanical photography of Imogen Cunningham, and, as he entered high school, the rock and roll portraits of Annie Leibovitz.
There is no student in the Yoknapatawpha High School Class of 2018 that escaped Brandon's lens. Brandon's creative photo montages caught the eye of his art teacher, Ms. McCarthy, who immediately suggested that he join the art club, which he did. He also followed in his sister's footsteps and became the head of the yearbook committee.
Throughout his high school years, Brandon had a reputation for smothering his friends. His unconscious, continual, and sometimes desperate attempts to keep his friends often succeeded in only pushing them farther away.
The lone exception to this rule seemed to be his friendship with Daniel Collier. To all onlookers, the boys had been as thick as thieves for years. This closeness, in no small part, was due to the absence of their fathers—one to his work and the other to an early death—and also because both boys had a flair for the arts. All Daniel wanted to do was paint, and everything he would paint—murals, cars, canvas, whatever—Brandon wanted to take a picture of it.
Brandon graduated from Yoknapatawpha High with a sterling 3.6 grade point average and has been looking for photography-related avenues to pursue as a career but still lives with Joe and Elise in Oxford.
---
$ 8.00 $ 7.00 This sturdy, bright yellow lanyard printed on both sides with "CRIME SCENE DO NOT CROSS" in black letters. Shop Now

$ 30.00 – $ 33.00 Jackets feature a detective shield printed in white on the front and FORENSICS in large white type on the back. Shop Now

$ 75.00 $ 60.00 Examine the evidence to solve a murder. Dust evidence for prints & test fabric for the presence of blood. Shop Now

$ 25.00 $ 22.00 Create a professional crime scene sketch quickly. Shop Now

$ 25.00 $ 16.00 A wall chart illustrating common fingerprint comparison characteristics. Shipped in a protective cardboard tube. Shop Now

$ 4.50 – $ 150.00 The standard FBI fingerprint card, form No. FD-258 version: 11-1-20 used for noncriminal fingerprinting Shop Now

$ 44- 54 explores a different crime scene processing technique each month. Shop Now

$ 8.00 Contains 2 of each size paper and plastic bags (large, medium and small.) Use for real evidence or fun. Shop Now

$ 44.00 A real print kit, fully stocked with instructions and enough supplies for at least 50 different print lifts. Shop Now