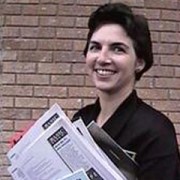 Nicole Grayson bio
Nicole Marie Grayson was born on May 7, 1983. Her father is Arthur Percival Grayson, a professional carpenter whose company is renowned for its painstaking renovation work on antebellum mansions. Her mother is Jennifer Paulette Netterville-Grayson.
Nicole's grandparents were "old money" and established large trust funds for each of their three grandchildren with the provision that the trust fund could only be drawn on for educational expenses until graduation from a four-year program.
Nicole grew up and went to school in nearby Batesville, Mississippi. After graduating from high school, she attended the Mississippi University for Women, which was the first publicly funded institution of higher learning for women in the United States, earning a Bachelor of Fine Arts degree.
After spending several years in Europe, Nicole returned to pursue a Master of Fine Arts degree with an emphasis in painting from the University of Mississippi's Graduate School and has been a resident of Oxford ever since.
She recently returned to the University of Mississippi to pursue a second Master of Arts degree in Art History. She has had several one-woman shows at the C'est Belle Gallery and has recently been gaining recognition for her oil paintings of famous Mississippi landmarks.
Nicole has one older sister, Laura Paulette, and one older brother, David Gaiwain. Her sister is a professor of psychology at the University of Southern Mississippi in Hattiesburg. Her brother is a graduate of the University of Mississippi School of Law and is a practicing attorney in Atlanta, Georgia.
Nicole is an alumna member of the Mississippi University for Women's Rogue Social Club, an honorary member of Soroptimists International, and is a vocal supporter of the National Endowment for the Arts and National Public Radio.
She lives alone in a well-furnished apartment overlooking the Oxford town square, and can often be found at the C'est Belle Gallery, Square Books, or the local coffeehouse, The Bottletree Bakery. Nicole eats lunch at The Roadhouse and supper at City Grocery every weekday, sometimes with her friend Monica Drum.
Nicole has never been married and has no children.
---