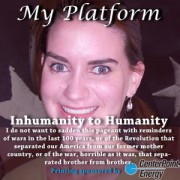 Ingrid Freeman platform
YOKNAPATAWPHA COUNTY SHERIFF'S DEPARTMENT
Investigating Officer(s): Det. T. Armstrong, Det. S. Murphy
Incident No.: 001995-01E-2021
Case Description: Barbara Dubois homicide investigation
Each pageant contestant chooses a platform—a cause she's passionate about—and uses her time and her talent to promote that cause. She also prepares a written presentation of her platform, which the judges consider in conjunction with her platform interview.
The following is Ingrid Freeman's platform submission.
---
"People's Inhumanity to Humanity"
I do not want to sadden this pageant with reminders of wars in the last 100 years or of the Revolution that separated our America from our former mother country or of the war—horrible as it was—that separated brother from brother.
Our world would be a better place if we were not killing civilians—men, women, and innocent children—but this happens when we go to war. Sometimes, the slaughter of innocent civilians continues for years after a country has been invaded, conquered, stormed, or the borders re-negotiated.
I do not understand why we find ourselves so often at war with another country over the religion or politics of a nation.
From the bottom of my heart, like many of us here today, I too have lost brothers, uncles, fathers, husbands. Many have also lost sisters, mothers, or cousins in warfare.
My mission in life is so simple: to get along without war.
I humbly beg the world to get along very simply indeed.
In this day of war-torn countries, unemployment, hunger, poverty, and child hardships, each citizen is called upon to look within themselves to help find a solution to our own problems.
Sometimes when we go to war, we try to liberate a country from the civil rights abuses its citizens humbly endure under a murderous tyrant. War tries to solve human rights abuses. Yet, war itself is such a violent and destructive action.
Perhaps each of us, in our own hearts, can find one small place where we can do some good:
Put aside your anger and hurts of today or yesterday, for they are like sores that fester into boils.
Put aside your jealousies and intolerances of the past, for they are like cancers that spread throughout your soul — they poison your sweet nature.
Fight evil with goodness in your heart.
It is time for all this inhumanity toward our fellow human beings to stop, within each of our hearts, one person at a time.
Thank you.
---
$ 30.00 – $ 33.00 Jackets feature a detective shield printed in white on the front and FORENSICS in large white type on the back. Shop Now

$ 44- 54 explores a different crime scene processing technique each month. Shop Now

$ 4.50 – $ 150.00 The standard FBI fingerprint card, form No. FD-258 version: 11-1-20 used for noncriminal fingerprinting Shop Now

$ 8.00 $ 7.00 This sturdy, bright yellow lanyard printed on both sides with "CRIME SCENE DO NOT CROSS" in black letters. Shop Now

$ 75.00 $ 60.00 Examine the evidence to solve a murder. Dust evidence for prints & test fabric for the presence of blood. Shop Now

$ 25.00 $ 16.00 A wall chart illustrating common fingerprint comparison characteristics. Shipped in a protective cardboard tube. Shop Now

$ 25.00 $ 22.00 Create a professional crime scene sketch quickly. Shop Now

$ 8.00 Contains 2 of each size paper and plastic bags (large, medium and small.) Use for real evidence or fun. Shop Now

$ 44.00 A real print kit, fully stocked with instructions and enough supplies for at least 50 different print lifts. Shop Now