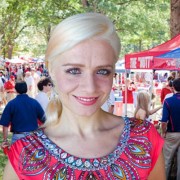 Nicolette Cuthbert biography
Nicolette Mangeret Cuthbert was born on January 30, 1974, in Nice, France. Her parents ran a small yet modestly successful bed and breakfast. With three older sisters and a younger brother, Nicolette was often overlooked as a child. At the age of ten, she began working as a front desk clerk for her parents.
After graduating from high school in 1992, Nicolette moved to Paris to pursue her dream of becoming a fashion designer. She shared a one-bedroom apartment with her best friend and worked as a barista to pay for design school tuition.
In 1995, Nicolette met an American photographer while interning at Paris Fashion Week, and the two began dating. A month into their courtship, the couple moved to New York and married shortly afterward. With the help of her husband's connections, Nicolette accepted a job offer with Yves Saint Laurent. Barely a year into their marriage, the relationship fell apart, and the couple separated in an amicable divorce.
Fascinated by her newfound lifestyle as a New York socialite, Nicolette immersed herself in the glamorous world of the Upper East Side. In 1997, she met Dr. James Cuthbert at a charity gala and married him a year later. Nicolette gave up fashion design around that time when she became pregnant with their first child, Julia.
Cracks started to appear in the happy couple's charmed life in 2000 after the birth of their son, Steven. James used work to escape the pressures of home life, leaving Nicolette to raise two children on her own. Although she had every material comfort, Nicolette's dissatisfaction with her absentee husband grew. Still, she decided to stay in the marriage so her children wouldn't lose their father.
Things changed in 2012 when James' affair with a patient came to light, and Nicolette filed for divorce. Ultimately, however, she chose to withdraw her divorce petition for the sake of her children. The Cuthberts relocated to Oxford, Mississippi, that same year for a much-needed fresh start.
Soon after their arrival in town, Nicolette met and befriended Kelly Moran. The two women met once a week for tea, taking turns playing host.
Nicolette remains in mourning over the death of her friend.
---
$ 25.00 $ 16.00 A wall chart illustrating common fingerprint comparison characteristics. Shipped in a protective cardboard tube. Shop Now

$ 30.00 – $ 33.00 Jackets feature a detective shield printed in white on the front and FORENSICS in large white type on the back. Shop Now

$ 44- 54 explores a different crime scene processing technique each month. Shop Now

$ 8.00 $ 7.00 This sturdy, bright yellow lanyard printed on both sides with "CRIME SCENE DO NOT CROSS" in black letters. Shop Now

$ 8.00 Contains 2 of each size paper and plastic bags (large, medium and small.) Use for real evidence or fun. Shop Now

$ 44.00 A real print kit, fully stocked with instructions and enough supplies for at least 50 different print lifts. Shop Now

$ 75.00 $ 60.00 Examine the evidence to solve a murder. Dust evidence for prints & test fabric for the presence of blood. Shop Now

$ 4.50 – $ 150.00 The standard FBI fingerprint card, form No. FD-258 version: 11-1-20 used for noncriminal fingerprinting Shop Now

$ 25.00 $ 22.00 Create a professional crime scene sketch quickly. Shop Now