Pain, questions linger after athlete's death (1988)
Pain and questions linger after athlete's death
One year later, local authorities have few answers
The Daily Mississippian
Tuesday, December 13, 1988
BY DWIGHT SHALES
DAILY MISSISSIPPIAN STAFF WRITER
One year after an Ole Miss athlete was found dead on campus, his death remains a mystery – leaving anguished friends and family desperate for closure.
The body of Kevin Gilmore, a sophomore, was found by a campus maintenance worker the morning of December 13, 1987, on Hathorn Road near the Waller Laboratory.
Campus police asked the Yoknapatawpha County Sheriff's Department to lead the investigation, and following an autopsy, Gilmore's death was determined to be suspicious. In the ensuing months, investigators conducted an exhaustive, but ultimately fruitless, search for answers to the many questions that plague the case.
"It has been a long and frustrating road for everyone involved," declared Yoknapatawpha County Sheriff Charles "Chuck" Lamar. "I feel personally responsible that we have added such uncertainty to the grief felt by friends and family of this talented young man."
Nonetheless, Lamar admitted that the two investigators who had been working on the case full-time have now resumed their normal caseload. Although no case is closed until it's solved, Lamar said, the passage of time means that new evidence or testimony is unlikely to surface.
"We continue to investigate existing leads, and hope that our persistence will pay off in a break in the case," he said.
Lamar refused to give specifics details about the investigation, and other sheriff's department personnel declined to comment.
But students who knew Gilmore said that although detectives told them Gilmore had likely been murdered, they also said his death was related to his condition as a Type 1 diabetic, a puzzling fact given Gilmore's regimen of testing and self-treatment.
"He was extremely careful because, obviously, he was an athlete, and he had to be at the top of his game," said Nick Crosby, Gilmore's former roommate and teammate on the Ole Miss basketball squad.
Crosby, now a junior, is one of several teammates who say they were questioned closely by detectives about Gilmore's financial dealings. A scholarship student, Gilmore reportedly borrowed money from several teammates and didn't pay it back, according to Crosby.
Crosby said detectives accessed his financial records along with those of at least one other teammate searching for irregularities, but found nothing.
"It was insulting," said Jason Finnegan, a starting point guard on the team, who is also now a junior. "Kevin was a total mooch. He could be a jerk. But they got in our faces about it. Like we'd want to kill the guy over, what, a hundred bucks? It was ridiculous."
Investigators also probed an incident of alleged plagiarism on Crosby's part. As reported in The Daily Mississippian in the spring of 1987, Crosby was stripped of the Barry Hannah Fiction Prize, awarded annually to the author of the best piece published in the Yalobusha Review, the campus literary magazine.
According to freshman composition instructor Andrea McPherson, she reported the possible plagiarism after reading Crosby's piece, "The Buzzer," in the magazine and recognizing passages from an essay Gilmore had submitted for her class earlier that year.
Crosby appeared before the academic disciplinary committee, which is comprised of students and faculty. Gilmore, along with assistant basketball coach Jared Pringle, testified on Crosby's behalf, and although Crosby was put on academic probation, he did not lose his scholarship.
When Gilmore died, Crosby was finishing a solid academic semester and probation was lifted the next semester as a result, Crosby said.
Still, detectives investigating Gilmore's death apparently thought the incident was significant, going so far as to interview McPherson, she said.
"It's ridiculous," Crosby complained. "We were roommates, we were the same age, we both played basketball, we have similar experiences and it's no surprise we'd both write about the same subject."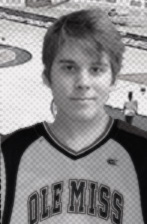 Sheriff Lamar refused to comment on the significance of the alleged plagiarism incident or on detectives' probes into financial matters.
Lamar also refused to confirm that investigators reviewed weeks of videotape surveillance footage from Waller Laboratory, looking for potential suspects who might have dumped Gilmore's body in the field where it was found.
But maintenance worker Tomas Robards, who found Gilmore's body, said detectives interviewed him at length about whether he had seen anyone lurking in the area, or any cars cruising the vicinity repeatedly, before or after the body was found.
"They seemed to think the location had something to do with it," said Robards. "They asked me about the pot farm and said they were looking at the camera footage."
Waller Laboratory is home to the campus' Research Institute of Pharmaceutical Sciences (RIPS) and its seven-acre experimental garden, known informally as "the pot farm." Because of the illicit drugs grown on the site and stored in the lab, the building is under guard and outfitted with heavy surveillance.
But whatever leads detectives pursued have not, so far, paid off in an arrest. With so many questions unanswered, Gilmore's friends and family said today's grim anniversary is all the more troubling.
"I just wish we knew more," said junior Carly Brock, Gilmore's former girlfriend. "It's horrible to think he might have been in trouble, injured or, I don't know, somehow unable to get help after being attacked. Why didn't he call? I think about it every day. "
Donald and Judith Gilmore, Kevin's parents, say they have tried to recover from the trauma of losing their only child, but are surrounded by daily reminders of his passing.
"It's been real painful – basketball season's starting again," said Don Gilmore. "The headlines in the papers, even on TV. Everywhere we look, we see players like our boy. He made us real proud, and he had a lot of potential – it's painful to think of what might have been."
---