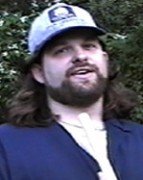 Ben Moreland bio
Benjamin Martin Moreland was born November 8, 1991, to Sally and Jeb Moreland in Oxford, Mississippi.
Ben was a social and happy kid who found a way to make music out of just about anything. His first musical instruments were Sally's pots and pans, and later his parents bought him toy instruments whenever they could afford them. For Ben's tenth birthday, his parents saved enough money to buy him a top-quality harmonica, which Ben has carried with him ever since and will play whenever asked.
As a kid, Ben was small and wiry and never went out for sports. He decided he'd rather be the class clown, and he entertained all the other kids with his one-man shows.
In high school, he worked every day after school at Oxford Music Store to earn enough money to buy his own instruments. His first purchase was an acoustic guitar, and he later added several other instruments to his collection including an electric guitar, a bass guitar, and an electronic keyboard.
Ben also wrote songs for the high school football team which, though risqué, were legendary. He managed to graduate high school with a 2.75 average and opted not to go on to college. He had a calling for music and followed his dream.
Currently, Ben plays guitar and sings in a band with some friends. They play mostly weekend gigs at colleges and clubs around the Southeast.
When Ben is not playing music and entertaining friends, he works as a groundskeeper at Rowan Oaks, legendary home of William Faulkner. He is currently single and enjoys playing the field. Aside from his music, he likes working on and refurbishing classic cars.
---
$ 8.00 $ 7.00 This sturdy, bright yellow lanyard printed on both sides with "CRIME SCENE DO NOT CROSS" in black letters. Shop Now

$ 25.00 $ 16.00 A wall chart illustrating common fingerprint comparison characteristics. Shipped in a protective cardboard tube. Shop Now

$ 44.00 A real print kit, fully stocked with instructions and enough supplies for at least 50 different print lifts. Shop Now

$ 75.00 $ 60.00 Examine the evidence to solve a murder. Dust evidence for prints & test fabric for the presence of blood. Shop Now

$ 8.00 Contains 2 of each size paper and plastic bags (large, medium and small.) Use for real evidence or fun. Shop Now

$ 30.00 – $ 33.00 Jackets feature a detective shield printed in white on the front and FORENSICS in large white type on the back. Shop Now

$ 25.00 $ 22.00 Create a professional crime scene sketch quickly. Shop Now

$ 44- 54 explores a different crime scene processing technique each month. Shop Now

$ 4.50 – $ 150.00 The standard FBI fingerprint card, form No. FD-258 version: 11-1-20 used for noncriminal fingerprinting Shop Now