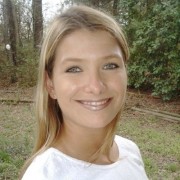 Andrea Stover bio
Andrea Gayle Stover was born July 14, 1992, to Irene and Jerry Stover of Abbeville, Mississippi.
Even as a small child, Andrea was willful and knew her own mind. While she wasn't spoiled exactly, her parents usually went along with her wishes unless it was harmful to her. She never doubted that her choice was the right one.
Always creative, she'd dress up her dolls and stuffed toys, then make up plays for them. When she got older, her playmates took the place of her toys. Andrea seemed to have a talent for getting her friends to volunteer for her productions.
As a child, Andrea and her family took a trip to Seattle to visit the Space Needle. Once off the elevator, Andrea refused to leave the wall of the observation deck and immediately wanted to return to ground level. After that, she was always very nervous in high places and avoided them whenever possible.
In high school, she was usually cast in the biggest role in school productions because she knew everyone's lines as well as her own. She also knew where and when each person should be on stage and didn't hesitate to tell them so.
Other cast members often didn't appreciate her unsolicited instructions, and the directors had to ask her to back off. That merely strengthened her determination to be the director when she grew up.
Teenage Andrea rebelled against her parents and the community because she believed their conservative attitudes were stifling her artistic creativity. She thrived on doing outlandish things and shocking her parents and their friends, like when she had a brief experimental physical relationship with her friend, Gretchen Doyle.
After high school, she studied acting and directing and earned a B.F.A. in Stage Management from the University of Mississippi. She felt fortunate that Ole Miss had a strong Theater Arts department, and she participated fully in their program, where she became known for being game to try anything creatively.
Her reputation for participating in boundary-pushing works brought her to the attention of Owen Norris, benefactor of the controversial acting troupe, Oxtales Theatre. He recruited her to join Oxtales, and after she had performed in one of their productions, Owen hired Andrea as the director of the small company.
In early January 2020, Oxtales staged a production called "Snopes." Word spread that "Snopes" was sexually explicit and that minors had been permitted to attend, and some had been allowed to participate in the stage crew. In February 2020, multiple members of the production were arrested.
Since Andrea was the director and the driving force behind the production, she became the primary target of the prosecution. Although she was initially offered a plea to a lesser charge, she insisted on a public trial to call attention to what she called "the government's attempt to stifle freedom of expression."
In late May 2020, Andrea was found guilty of disseminating sexually oriented material to persons under eighteen and was sentenced to eighteen months in prison and a fine of $10,000.
She served her full sentence at the Central Mississippi Correctional Facility, where she was sent in June 2020. She was released in January 2022, and as required by law, she registered as a sex offender.
Andrea moved in with her long-suffering but supportive parents in Abbeville. It was a difficult situation for all of them, and it strained their relationship, but it was temporary until she could afford to move out on her own. Sometimes, Andrea crashed at her best friend Gretchen Doyle's apartment in Oxford if she didn't feel like going home.
Owen Norris welcomed Andrea back to Oxtales and reinstated her as director. A new production was in the works and looked to be as controversial as "Snopes" had been. Once again attracting the attention of community watchdog groups and the press, Andrea remained fearless in her pursuit of creative freedom.
---