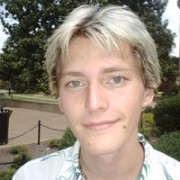 Mark Gable bio
Mark Gable was born on October 6, 2004, in Oxford, Mississippi, to Richard and Lydia Gable. Richard was a banker, and Lydia worked part-time keeping the books for a local hardware store.
To all outward appearances, the Gables were the perfect family: financially comfortable, always together at events, and respected church members. They were a fixture at every school function, PTA meeting, and youth baseball game, but at home, they each went their own way.
By the time Mark reached junior high school, the teachers knew him as a bright student who lacked initiative. His sports accomplishments were met with little fanfare by his parents, and his academic shortcomings didn't elicit much response either. As he grew older, Mark began to understand that it was just how they were, so he contented himself with sports, friends, and dates.
In high school, Mark performed well enough on various sports teams to be popular with the other students and was good-looking enough to always have dates. Although he didn't excel in the classroom and his lack of effort irritated his teachers, he was good-natured and well-behaved, so they generally left him alone.
On a lark, Mark and some friends signed up for drama class. They thought it would be fun and easy, but Mark was quickly drawn into the dynamics of the group. Sports had gotten him some notice, but in drama class, all eyes were on him. The drama teacher, Mr. O'Shea, saw this flame in Mark and encouraged him to work hard on his acting. Soon, Mark was winning the lead roles in all the school plays.
Mr. O'Shea could see that Mark was outgrowing the high school drama program, so he introduced Mark to Andrea Stover. The teacher wanted Mark to get experience with a professional theatre company. Soon after Mark began working with Oxtales, his eyes glowed with his infatuation for Andrea. Mark was smitten with the older woman, and he worked hard to win her favor.
Andrea's prosecution crushed Mark, and he was heartbroken about her going to jail. He was afraid she would hate him and never talk to him again. He imagined painful scenes where she turned away from his apologies.
The Oxtales case also opened up a chasm in Mark's relationship with his parents over their involvement in pushing for the prosecution. Where Mark had previously been indifferent to them, he was now filled with anger and hatred over what he saw as their hypocrisy and self-righteousness. Since starting school at Ole Miss, Mark has barely spoken to them.
When Andrea was released from prison, Mark hoped they could start working together again, but he found that Andrea wasn't as eager to reconnect as he was. He complained to friends that he couldn't understand why she was keeping him at arm's length. He said he wanted to confront Andrea and get her to explain, but he hadn't figured out yet how to do it.
---