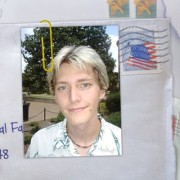 Letter Excerpts – Gable
YOKNAPATAWPHA COUNTY SHERIFF'S DEPARTMENT
Investigating Officer(s): Det. T. Armstrong, Det. S. Murphy
Incident No.: 001019-28B-2022
Case Description: Andrea Stover death investigation
The Yoknapatawpha County Sheriff's Department collected as evidence from Andrea Stover's residence five hundred forty-eight (548) letters addressed to Andrea Stover at the Central Mississippi Correctional Facility.
Included in that number were seven (7) letters from Mark Gable (Evidence #s 001019-21-282 through 001019-21-288).
YCSD investigators have examined those letters and assembled the following excerpts from the Gable letters.
These excerpts were determined to be potentially relevant to the Andrea Stover death investigation and typical of the content of all letters from Mark Gable.
---
---