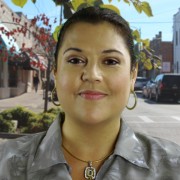 Gretchen Doyle bio
Gretchen Marie Doyle was born to Garrett and Vera Doyle on February 18, 1993, in Colleyville, Texas, a suburb of Dallas.
From an early age, Gretchen showed little interest in the mores of her parents' affluent social status. While her high school classmates attended cotillions, Gretchen preferred concocting elaborate meals for one or two friends. Her mother encouraged her interest in cooking because Vera viewed the skill as essential for attracting a husband and securing one's future. Seventeen-year-old Gretchen's 28-volume cookbook collection consisted primarily of gifts from her mother.
Despite this shared interest, Gretchen and Vera's relationship grew stormy as it became clear that teenaged Gretchen would not conform to the role of society debutante. Gretchen's defiance of social expectations also vexed her gregarious little brother, Wade. Whenever he hosted barbecues for his varsity football teammates, Wade implored Gretchen not to embarrass him.
Gretchen's flair for the visual arts grew into a passion for painting during high school. From 8th grade onwards, she entered paintings in the State Fair of Texas Creative Arts competition and won prizes four times, including a Best of Show her junior year of high school. In Colleyville, Gretchen's paintings were part of a Community Center exhibit of local students' works during her sophomore year of high school.
When she was 16, Gretchen jumped at the chance to go on a school-sponsored summer tour of France. In addition to seeing the Louvre and Orsay museums, Gretchen also had her first serious romantic entanglement with schoolmate Ted Barton. Previously, she had barely endured several dates, all choreographed by Vera.
Gretchen and Ted's relationship lasted through the summer after their return from France. When Ted broke up with her shortly after the beginning of their junior year, she was crushed and withdrew even further from the social scene.
When Gretchen announced she intended to go to art school, her parents initially tried to talk her out of it. Although they hardly expected her to major in business as Wade planned to do, they thought she might choose a more traditional vocation, perhaps as an art teacher if nothing else, until starting a family. But Gretchen persisted, and Garrett ultimately overruled Vera.
As a compromise, Gretchen agreed not to move to the Northeast as she had wanted and instead pursue a B.F.A. in Studio Art from Ole Miss. Her secret plan to transfer to the Pratt Institute in New York on scholarship was crushed when her application was rejected twice. Confronted with the possibility of limited success as a painter, Gretchen changed her concentration to graphic design.
During her unsettled vocational transition, Gretchen met Andrea Stover and began seeing her romantically. Although Gretchen had dated casually since her arrival in Oxford, she considered herself apathetic when it came to matters of the heart. The thought that bisexuality could explain her lack of interest in men was a relief to Gretchen.
After her affair with Andrea ended on friendly terms, she continued to explore relationships with women, including a year-long commitment with student Sadie Ziegler. Gretchen and Sadie traveled together in Italy and France for several months after graduation, but upon their return, Sadie decided to move to San Francisco, and the relationship ended.
After Sadie left, Gretchen began dating men again, much to the relief of her parents, who wondered when their daughter would settle down and move back home. Their relationship remained strained, however, as Gretchen refused job offers from Texas ad agencies and stayed in Oxford. She spoke with her parents infrequently and rarely visited them, unlike Wade, who'd married and settled in Midland, Texas, after earning a business degree from Penn State.
Gretchen's relationship with Andrea, which had blossomed into a deep but platonic friendship, was the highlight of an otherwise small-town existence. As always, Gretchen maintained a small circle of friends. She volunteered for the Yoknapatawpha Arts Council and was active in the Mississippi Democratic Party. At a Democratic party fundraiser, Gretchen met Ursula Raines, and they began dating soon after.
With her love life stable, Gretchen has lately focused on building her career.
---