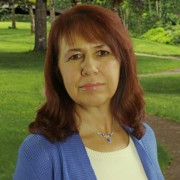 Rita Ashbury bio
Rita Ashbury was born July 2, 1972, in Batesville, Mississippi, to William and Helen Ashbury. Their elder daughter, then-four-year-old Linda, was very pleased to have a little sister to play with and often told people that Rita was "her baby."
Rita was an outgoing and helpful child and always had a lot of friends growing up. She was a solid B-student in school and served as Secretary/Treasurer in several school clubs.
After high school, Rita got a job as an administrative assistant at a local real estate office. She had originally planned to work there only a few years until she got married and started having children. But the wait for Prince Charming turned out to be longer than she'd anticipated, and she ended up working there for over 20 years.
When the real estate market crashed, the little agency was hit hard. They struggled along the best they could, gradually shedding employees as revenues dwindled over time.
After three years, the business's financial situation was worse than ever before, and there was no reprieve in sight. They were forced to close their doors, and Rita lost the only job she'd ever had.
For almost a year, Rita lived off her savings while she looked for a position doing the same kind of work for around the same salary she had been making. She was rejected again and again by employers saying she was overqualified or underqualified or too expensive, which she took to mean too old.
With her savings running out, Rita finally signed up with a temporary staffing agency, where she was sent out on temporary secretary/receptionist assignments for many local businesses. She soon became a favorite with the clients, and they often requested her when they needed temporary help.
One of Rita's assignments sent her to Blaze Art and Media, an advertising firm that needed a receptionist to fill in for a few days. The people at Blaze liked her so much that they kept her on as an administrative assistant after their regular receptionist returned. Eventually, they hired her as a permanent employee.
Rita's organizational skills and attention to detail made her an excellent fit in the busy, growing firm. After several years with the company, she was promoted to Office Manager and still holds that position today.
Rita lives in Oxford with her sister, Linda, and hasn't given up hope that Prince Charming might still show up one day.
---