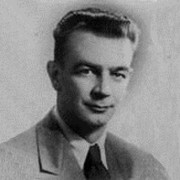 Richard Izard bio
Richard Izard was born August 29, 1925, to Ruth and Charlie Izard. Charlie worked as a welder during the week and at the county auction barn most weekends. Richard's mother was a homemaker and devout Baptist.
Richard was his parents' only surviving child. His older brother, Gilbert, was killed in action on April 15, 1945, in the bombing of Dresden.
Richard grew up in Toccopola, a small community in western Yoknapatawpha County. He was a sturdy, healthy, good-looking boy who played in all school sports in junior high school. He got along with all different groups of people at East Toccopola High School because of his mellow, even temperament, and he was known for his sense of humor.
During his senior year in high school, Richard severely injured his back while working part-time with his father at the auction barn. Because of his back problems, he couldn't pass the Army physical and was not able to enlist with his friends.
Instead, he dropped out of high school and moved to Oxford in 1943, taking a job at the Bowlan Glove Factory. His satisfaction with his work at Bowlan Glove restored his natural good humor, and he worked himself up through the ranks to become factory foreman.
He met the lovely Lisa Graham in 1950 during an emergency room visit where he was being treated for an industrial chemical burn. Lisa and Richard hit it off immediately, and they married in 1951.
He and his wife both had the common bond of overprotective parents, and they swore they would give their own children the freedom to be creative, active, athletic, and free like they had seldom been themselves.
Their son, Ricky Jr., was born in 1952, and their daughter, LeAnne, joined the family three years later.
Richard had many friends and enjoyed weekends of squirrel and coon hunting, fishing, and occasional hands of poker with buddies. During the week, he often worked in the large vegetable garden near his house while his wife hung laundry on the line or worked nearby in her thriving flower garden. He also puttered around with amateur mechanics in his spare time, repairing his truck and the family's car.
Richard was killed on Friday, April 11, 1958, at age 32. The mail carrier discovered both Richard and Lisa brutally beaten and slashed to death near their garden. Their children were missing and were never found.
The couple is buried side-by-side at Bethlehem Primitive Baptist Church cemetery.
---