Is MI woman long-missing child?
Oxford Eagle, May 24, 1998
Detroit Woman May Be Missing Child In 1958 Murder Case
New questions re-open old mystery
by Loretta Winston
STAFF WRITER
Forty years ago, on April 11, 1958, Richard and Lisa Izard died in the garden of their Yoknapatawpha County home, bludgeoned with a shovel in what appeared to be a crime of passion — or at least high temper. That same day, their two small children—6‑year‑old Ricky Jr., and 2‑year‑old LeAnne—vanished, never to be seen again.
Last month Doris Hammack, 42, arrived in Oxford, following a tenuous trail of hints and unanswered questions, to try to find her past and to answer the most pressing question of all: Is she really the vanished LeAnne Izard?
"I really don't know," Hammack said in an interview early this week. "Maybe I'll never know. But I'd like to. Wouldn't you want to know where you came from? I grew up wondering which day was really my birthday. Was it today? Is it tomorrow? I'd like to find some answers."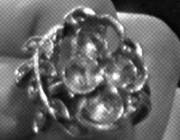 Doris Hammack claims this ring is
her link to the Izard family
Two items led her to Yoknapatawpha County: an unsigned letter and an unusual ring.
The letter was given to the Immaculata Catholic Children's Home in Detroit, Michigan, on the day young Doris Hammack was taken there in August of 1960, left in the care of the nuns by a woman who refused to give her name.
The letter said only that all the child's family members were dead, that she'd come to Detroit from Mississippi but was now all alone, and that she needed to be looked after by someone who'd care.
The ring offered no clues at all.
Two years ago, after years of therapy and a lifetime of baffling, and sometimes bloody, nightmares, Doris Hammack started a search of Mississippi archival records, focusing on the years 1955 to 1960.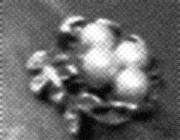 Photograph of the Izard heirloom
stolen from the 1958 murder scene
The research turned up three possibilities involving missing little girls around the right age, but only one included a missing child and a ring: the 1958 Izard murder case.
A connection to the Izard family tragedy?
"As soon as I read the first stories about the Izard case, my nightmares got worse than ever," Hammack said. "I knew I had to come down here, to find out the truth. What I read made me realize that some of my dreams might indeed be memories."
Although it wasn't mentioned in the letter, Hammack has always believed that the ring belonged to her birth parents, to her mother. "Maybe somebody told me that when I was just a little girl," she said. "I don't know."
The sheriff's department has confirmed that the ring Doris Hammack carries does, indeed, match the description of the ring that was missing from Lisa Izard's finger the day she was found murdered.
According to Elizabeth Jones, public information officer for the department, "The Izard murder case has not been officially moved to the status of an active investigation at this time."
She does not rule out that possibility. "Investigators are looking into Miss Hammack's association with the Izards. The possibility that this will move the Izard case to the status of an active investigation has not been ruled out."
Searching for answers to explain the past
So far, all Hammack has found in Yoknapatawpha County are more tantalizing hints and possibilities. "Do I remember this countryside?" she quizzes herself. "Maybe I do. Or maybe I just want to so bad that I think I do. This is all very hard."

Doris Hammack
Hammack's youth was spent in a seemingly endless series of foster homes in Detroit, sometimes staying as little as a few months and sometimes a few years with many temporary returns to the Catholic children's home in between. After one particularly difficult parting from a foster family where she had formed strong attachments, 13‑year‑old Doris was sent to the Mercy Mental Hospital in Detroit for depression.
"What I needed was stability and love. A home, not therapy," Hammack says of that experience. "I was very young. I was scared. I'd thought I'd found a home and instead ended up in that terrible place."
Doris isn't looking for sympathy; she's looking for answers. "I'm looking for facts, for the truth. Everyone's life is hard in some way," she says, "I've done the best I can with the hand I've been dealt. I'm a survivor."
For the past two weeks, she's been haunting the county library and records archives, trying to dig out any clues that might prove that she is — or even isn't — the missing LeAnne Izard. So far, all she's found are more questions.
A murder and missing persons case gone cold for decades
The unsolved Izard murder has entered local folklore during the 40 years since it happened. Teens are routinely dared to spend time on the supposedly haunted Izard property to prove their bravery,
An audio documentarian recorded this
popular schoolyard chant while visiting Oxford, MS, in 1959
There is even a rhyme about the case that's chanted by jump-roping schoolyard children. Quite likely, they have no idea that the rhythmic chant, as casually callous as childhood rhymes can tend to be, refers to a real murder and two quite real missing children.
Records of the four‑decades‑old murder haven't proved promising. There was no shortage of suspects for the murder since Izard had, just that day, laid off 153 men from the Bowlan Glove Factory in Oxford.
No identifiable prints were found on the shovel handle, and tire prints at the scene were inconclusive. Multiple suspects were interviewed over a period of months, but nothing conclusive was ever found to link any one person to the murders.
"It was like somebody just dropped out of nowhere, killed those poor people, took their kids, then took off back into nowhere again," said Yoknapatawpha County Public Library director Sue Hendrix, who helped Hammack with her early research in the area.
Such possibilities haunt Doris Hammack. Are her nightmares born of overheard stories or of memories from a time when she was too young to understand what happened? Is she Doris Hammack, or is she LeAnne Izard? Is it even possible to find out after all this time?
Forty years ago, many questions were left unanswered. Doris Hammack hopes that asking them again might help her find the keys to her past — and solve a mystery that's become a part of local legend.
---