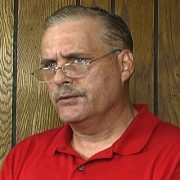 Arthur Beck bio
Arthur Beck was born May 3, 1963, to Patrick and Connie Beck, while his father was stationed at Fort Riley, Kansas. His father was a career Army sergeant, which meant the Becks were transferred often, and Arthur attended seven schools in thirteen years of schooling.
Arthur felt it was his patriotic duty to serve his country, so after graduating from high school, he followed in his father's footsteps and enlisted in the Army. He spent eight years in the service, by which time he'd had enough of Army life and being stationed overseas, so he returned to civilian life.
He decided to settle in Chicago, Illinois, and looked into several local, state, and federal government opportunities. He finally decided on the US Postal Service, a job suited to his disciplined approach to life.
On his lunch breaks, Arthur frequented a nearby library. The librarian was a lovely young woman named Frances Groves, whose smiling face and friendly air mesmerized Arthur. He made excuses to talk to her and one day summoned the courage to ask her to dinner. He was surprised when she accepted, and they began a long, slow courtship.
Frances was everything Arthur was not and softened his hard edges. She was drawn to his serious nature and unwavering reliability. They married a year after meeting and were devoted to each other for nearly three decades.
Although Arthur was not one for group activities, he accompanied Frances to church and joined her on a bowling team. His interest in football continued, but he preferred watching on TV rather than enduring the crowds and noise at a game.
In the workplace, Arthur's people skills weren't the best, but he was an efficient manager, which helped him work his way up through the US Postal Service. He retired as the manager of a suburban Chicago branch office.
After Frances had worked at the library for more than 25 years, there was a change in management, and she decided it was a good time to retire.
In retirement, Frances wanted to move to a warmer climate where she could spend more time gardening. After living in a metropolitan area all their married life, she yearned for a smaller community and spent hours researching retirement possibilities for them to visit.
When she and Arthur toured Oxford, they fell in love with it and bought a home with a nice-sized yard that the two of them could manage. They spent many happy hours working to beautify their space.
Frances became friends with their neighbor, Kimberly Pace, but Arthur believed in "live and let live" where neighbors were concerned. Kimberly's dog, Emerson, occasionally got into the Becks' yard, but Frances always managed to coax him back where he belonged before he could damage her garden.
In 2020, Frances began to lose a lot of weight and rapidly. She endured many tests before the doctors diagnosed her problem as pancreatic cancer. The prognosis was terminal.
Arthur was devastated but held himself together for his wife's sake. Frannie was resolute and brave for Arthur's well-being as her own.
Arthur dropped everything to care for her. As she became weaker, he did all the cooking and housekeeping in addition to caring for Frannie. Their beloved garden had to be sacrificed, although he did what he could because he knew how much she loved it.
Arthur made sure to nurture two rosebushes that Frannie cherished so he could pick the flowers for her every day during their blooming season. She once said the one called Seashell smelled so good that it made her feel like a "young Southern belle."
Frances died less than a year after her diagnosis. Arthur was inconsolable but refused her pastor's offer of grief counseling.
He grew more reclusive and increasingly intolerant of people and things that annoyed him. He focused his energy on restoring the garden to the way Frances had wanted it, giving particular attention to the Seashell and Iceberg rose bushes in the front yard, often working into the night until he was too exhausted to continue.
---