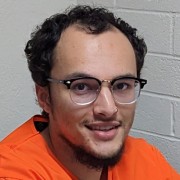 Ezekiel Evans bio
Ezekiel "Zeke" Evans was born to Cooper and Darlene Evans on July 3, 1985, in Norman, Oklahoma. Cooper was bright enough for college but eschewed further schooling for the trades. He was good with his hands and loved small machines, so he was determined to make them his business. Darlene went to Central Oklahoma to study to be an English teacher.
When the Thunderbird Casino opened in 1987, Cooper found himself repairing slot machines full-time. Young Zeke loved to play in his father's garage workshop, whirling the reels on broken one-armed bandits. Six years later, the Evans family moved to the Lake Texoma area, where the gaming industry was booming.
The move was an easy one for 11-year-old Zeke. Extroverted from a young age, Zeke wormed his way into every friend circle. By the time he was a senior at Kingston High, he would often be seen eating lunches at the tables of the nerds, the jocks, the outcasts, and the preps, all in the span of a week. No one batted an eye when Zeke promiscuously evaded these rigid teenage social hierarchies. That was just Zeke being Zeke.
Looking to follow in his father's footsteps, Zeke found that repairing the newest casino games required a substantial knowledge of computer expertise. He could get that expertise in a novel educational program started in 1999 at the University of Texas at Tyler. Unable to afford the out-of-state tuition, Zeke kissed his mother goodbye and moved to the opposite bank of the Red River, where he found a small apartment in Preston Bend, Texas. For over a year, he apprenticed with his father and then enrolled in UT-Tyler in the fall of 2004.
At UT-Tyler, Zeke met his mentor, Alden Puckett, head of the CIS program. After graduation, Alden set Zeke up with what Zeke thought was a dream job as a technical sales engineer for security equipment and software used for casinos, banks, and other highly-surveilled businesses. Although the entry salary was good, Zeke discovered that he craved more excitement than the job provided, so when Alden told Zeke that there were other opportunities to be had and that he could work with a college buddy, Hoyt Biffle, Zeke didn't hesitate to join Alden's crew.
In 2011, Zeke, along with Alden and Hoyt, was arrested on charges of identity theft, breach of internet security, and a host of other computer-orientated crimes. Eventually, the charges against the trio were dropped, but Zeke immediately became persona non grata among computer security professionals.
Zeke would jump from sales job to sales job in Louisiana and Arkansas, never reaching his once far-flung potential. He attempted to convince Alden and Hoyt to join him in a shady business proposal in 2020, only to find himself rebuffed by his former colleagues. It was fortunate for them, too, because when Zeke tried to pull off the venture himself in 2021, he found himself in the Marshall County Correctional Center in Holly Springs for the next four years.
---