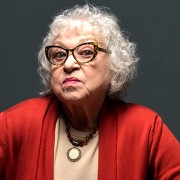 Zina Jacinto bio
Zina Jacinto was born in Oxford, Mississippi, on September 3, 1954, to Daniel and Mamie Jacinto. Within days of Zina's birth, Daniel lost his job. He worked odd jobs to keep food on the table but struggled to pay the monthly bills.
The Jacintos regularly attended church. Mamie's faith and her church friends gave her the strength to endure the hard times, but Daniel lost his faith. Eventually, he stopped going to church altogether, which put more strain on the couple's already difficult marriage. When Zina was six, Daniel abandoned the family.
Mamie took on multiple low-paying jobs and relied on her church friends to look after Zina. The long hours and hard physical work took their toll on Mamie, and just three years after Daniel left, she died from complications due to pneumonia.
Various church families fostered Zina, but never for longer than six months. Eventually, she went to stay with John and Mary Skeleton, an older, childless couple who quickly fell in love with Zina. After several years, the Skeletons decided to adopt her officially. Unfortunately, before the adoption was finalized, John and Mary were killed in a car accident.
Zina was the sole beneficiary of the Skeletons' substantial life insurance policy. Mary's brother, Joseph, was the trustee until Zina's 18th birthday, at which time she received the Skeletons' Turnberry Circle home and property. She also received more than enough money to live comfortably for the rest of her life.
At first, her house was fairly isolated, but as the area became more developed, Zina could see and hear the activities of her neighbors. She began monitoring these activities and keeping a written log of anything she deemed unusual. Zina regularly reported these "unusual" activities to the Sheriff's Department.
In addition to her one-woman neighborhood watch activities, Zina volunteers at local animal shelters. What started as occasional dog walking became a regular walking fitness routine. She now combines fitness with her keen observation and note-taking abilities, which allows her to expand her watchful eye beyond her own windows.
Like her mother, Zina is a devoted churchgoer. She regularly attends the Fellowship of the Holy Spirit Church and enthusiastically participates in church activities.
---