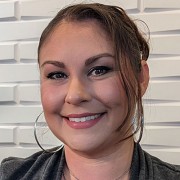 Birdie Tarver bio
Birdie Tarver was born on Thanksgiving Day, Thursday, November 24, 1988, in Tupelo, Mississippi. She was the middle child of three children born to parents Darnell "Butch" Tarver and Donna Tarver.
Butch and Donna met while serving in the U.S. Navy, Butch as a welder and Donna as an air traffic controller. After leaving the service, Donna was hired by the Tupelo Regional Airport, so the couple settled in Tupelo. Butch opened a welding business that specialized in refurbishing classic cars.
Birdie was smart, but she was an average student, completing the bare minimum required to pass her classes. She was more interested in self-improvement than academics. Curious and open to new experiences, she would try just about any class or workshop, which helped her discover that she excelled at visual art and was a prolific photographer. She won her first cash prize in photography at 12 years old when she submitted to a contest for adults and took third place for her photo of a birthday cake titled "Light Me, Blow Me, Bite Me."
Throughout high school, Birdie continued to submit her photography to contests and collect prize money. By the time she graduated, she could afford to move out and live on her own. She wanted to remain reasonably close to her family but was looking to spread her wings. Attracted by the historical architecture on and around the campus at the University of Mississippi, Birdie relocated to Oxford.
Birdie joined local photography groups and made friends with Ole Miss students in the university's photography club, The Clicks. These contacts enabled Birdie to make a living as a freelance photographer while she added to her artistic portfolio and planned to publish a collection of her photos. In 2008, Birdie's talent caught the eye of C'est Belle Gallery owner Lila Lawson, who then began producing small, group shows exhibiting Birdie's photography.
In 2017, Birdie photographed a small wedding, where she met Alden and June Puckett. June wanted to increase her small, eclectic photography collection and asked to see Birdie's work. Before long, Birdie and June became close friends.
Birdie visited the Pucketts often and, during one visit, met Hoyt Biffle, a friend and former student of Alden's. Birdie and Hoyt immediately hit it off, and although he lived in Texas, the two began a relationship. Even though they struggled to maintain the long-distance relationship, in January 2018, Birdie announced that she was pregnant. On September 5, 2018, Birdie gave birth to her son, Harrison.
Birdie and Hoyt never seriously considered marriage, but they tried to stay together as much for themselves as for Harrison. However, over time, the relationship began to fall apart. Hoyt and Birdie ended their romantic relationship before Hoyt relocated to Oxford, but they remained friendly. Today, Birdie is in a committed relationship with Don Walker.
---