Eugenia Stillwater bio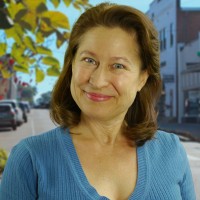 Eugenia Tate Courtney was born on the family estate outside Baton Rouge, Louisiana on February 19, 1972, to Robert and Aurora Tate Courtney. Growing up in a privileged home with servants and the best of everything, she became accustomed to having the best of everything without having to do anything resembling hard work.
Eugenia was born to marry well. Her beauty, grace, and style made her extremely popular, and her Cordon Bleu cooking skills and decorating course achievements were an investment for the future. Unlike some of her classmates, Eugenia was more interested in finding an ideal husband and setting up a perfect home than backpacking around Europe.
When she caught the eye and soon after the heart of up-and-coming attorney Blake Stillwater, it seemed a marriage made if not in Heaven, then in the drawing rooms of the upper echelons of Southern society. Blake and Eugenia met at a party at his Aunt Martha's home during one of Blake's visits back home to Baton Rouge from Chicago, Illinois.
Eugenia was one of the loveliest Southern brides of 1992 at her January 18th wedding in Baton Rouge to Blake Stillwater. After they married, the young couple lived in Chicago.
Eugenia soon made friends and joined in the rounds of parties, premieres, sailing and charity fundraisers. She didn't need to work and devoted her energies to decorating their home. While Eugenia used the services of a high-society decorator, she took pride in locating unusual fabrics for the formal living and dining rooms from sources all over the world. Her effort was well worth it as the Stillwaters' Chicago home was featured in a five-page spread in a decorating magazine in July 1994.
The next month she gave birth to her son, Philip "Scooter" Stillwater, on August 3. When Eugenia discovered that she could have no more children, she lavished attention on Scooter. His nursery was a fantasy world with murals that were updated as he grew, with the scenes changing from puppies and pixies to outer space themes. Scooter loved nature and enjoyed chasing bugs, butterflies, and spiders.
Over time, both Eugenia and Blake found that they missed the warmth of the South and after the publication of his first novel, Blake decided to move his family to Oxford, Mississippi, which he saw as the Southern renaissance center of writing. While her husband worked part-time as a lawyer and concentrated on his writing, Eugenia set about overhauling the magnificent antebellum mansion they had both fallen in love with at first sight.
Eugenia has renovated the mansion twice since the family bought the home in 2001. One of her first steps was to install a swimming pool, where Scooter and his friends loved to splash and where Eugenia and Blake often had a romantic swim on hot moonlit nights. The second renovation included the addition of a laboratory at the rear of the poolside cottage where Scooter could indulge his growing interest in entomology.
As her son grew older, Eugenia devoted herself to charity work and social functions around the Oxford area and has made increasingly frequent visits to see her mother, who still resides at the family estate in Baton Rouge. She volunteered her time and expertise to conduct informal training sessions on traditional etiquette for daughters of her friends, finding it distasteful to even think of charging a fee.
Despite having a beautiful home and all the trappings of success, Eugenia has confided in friends that she has felt neglected by her high-profile husband and knows he has strayed more than once over the years. He rarely takes her with him on his frequent promotional tours, and when he's not traveling, Blake spends most nights in a bedroom next to the study where he writes, rather than in the same room with Eugenia.
Her frustration at being alone in the matrimonial bed has grown, and the romantic moonlight swims have ended. Despite Eugenia's regular workouts with a personal trainer, her eyelid lift in 2015, her Dead Sea mud spa treatments, and her regular hair coloring sessions, she's convinced that Blake is now seeing a younger woman.
A few months ago, she told friends that Blake had said he was driving to Jackson to do some research and would be away overnight. Before he left and again when he returned, she checked the mileage on his Range Rover and found he'd barely driven out of town.
After that incident, Eugenia's spirits plummeted, and she discussed with her physician ways of lightening her mood without medication. While she was still mired in that state of mind, she walked out of a jewelry store with an expensive gold bracelet she'd been trying on still on her wrist. The store's new manager, who didn't know Eugenia, called the police.
Eugenia was taken to the police station, fingerprinted and charged. But intervention from Blake and their attorneys along with a letter from her physician detailing her depression led to all charges being dropped.
Since then, Eugenia has been keeping a low profile around town. She still attends the expected charity and social events and regularly visits her hair salon for various beauty treatments, but her friends haven't seen much of her outside of those occasions.