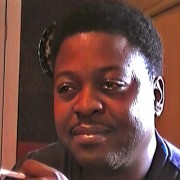 Willie King bio
William Jefferson King was born on October 13, 1979, to James and Eula King in Biloxi, Mississippi. He was the youngest of the Kings' three sons and one daughter.
Early on, the King family noticed that William had difficulty settling down. He was constantly shifting gears and interests.
In elementary school, he became fascinated by heavy equipment and construction tools. His father arranged for his son to run errands at a building site, which William enjoyed, but one day, he just quit going. When his father asked him why, William said it was boring.
In junior high, William's obsession was football, but by his sophomore year, he had lost interest. Then, blues music was his passion. He bought an old guitar and spent hours trying to decipher the licks he heard on those records.
Because of his inability to focus on anything for very long, William's high school career was unimpressive at best. He dropped out his senior year to work at a factory in Biloxi.
When he was twenty, William married Rebecca Handell, and they moved into an apartment on the outskirts of Biloxi. The marriage was a tumultuous affair since William's inability to focus also included women. After five years of marriage, Rebecca had enough of William's infidelities. One night, William went out with the boys from work, and he went home with a woman he met. When he finally returned to his apartment, Rebecca was gone.
Single again, William wandered around Mississippi for several years. For a while, he worked as a forklift operator in Tupelo. Then, he drove a bulldozer on a construction site in Grenada. He also worked at a hospital in Hattiesburg.
The one constant in his life during this period was the blues. He would work during the day, return to an apartment that looked just like the one in the last town, and play the blues until his neighbors yelled for him to stop.
Finally, William started playing in small bars and clubs and going by the much more blues-sounding nickname of Willie. He brought together a few other musicians and formed the band known today as Sugar Whiskey. He was surprised to find that they quickly developed a following.
As soon as Willie and the band were able to support themselves playing music, they quit their day jobs and moved to Oxford, where they could try out new songs and sets on the college crowd.
In Oxford, Willie found a home for his music and his lifestyle. Willie found that once he became known as a bluesman, people not only excused his drinking, his fights, and his affairs, they practically expected those things. He had always been a drinker, but in the college town, flush with money from frat boys, Willie began dabbling in drugs. He first tried marijuana and soon moved on to cocaine. Even an arrest in 2019 didn't slow him down.
His partying lifestyle downshifted a bit when he met Carmen Rodriguez while Sugar Whiskey was performing in San Antonio, Texas. He liked her fire and attitude, and they quickly became an item. Carmen moved to Oxford at his invitation and tamed Willie to some degree. She disapproves of narcotics and has tried to get Willie to settle down.
Of course, Willie still likes playing his bluesman role, so even during the times he is monogamous, he still goes out of his way to flirt with the ladies who attend his shows, fueling Carmen's jealousies in the process.
---
$ 8.00 Contains 2 of each size paper and plastic bags (large, medium and small.) Use for real evidence or fun. Shop Now

$ 25.00 $ 16.00 A wall chart illustrating common fingerprint comparison characteristics. Shipped in a protective cardboard tube. Shop Now

$ 4.50 – $ 150.00 The standard FBI fingerprint card, form No. FD-258 version: 11-1-20 used for noncriminal fingerprinting Shop Now

$ 25.00 $ 22.00 Create a professional crime scene sketch quickly. Shop Now

$ 30.00 – $ 33.00 Jackets feature a detective shield printed in white on the front and FORENSICS in large white type on the back. Shop Now

$ 25 Stocked with enough supplies to collect at least 25 prints. Shop Now

$ 44- 54 explores a different crime scene processing technique each month. Shop Now

$ 17.50 The applicant card kit contains everything you need to collect five sets of fingerprints. Shop Now

$ 44.00 A real print kit, fully stocked with instructions and enough supplies for at least 50 different print lifts. Shop Now

$ 75.00 $ 60.00 Examine the evidence to solve a murder. Dust evidence for prints & test fabric for the presence of blood. Shop Now

$ 8.00 $ 7.00 This sturdy, bright yellow lanyard printed on both sides with "CRIME SCENE DO NOT CROSS" in black letters. Shop Now