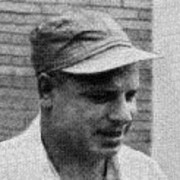 Walter Hinkley bio
Walter Hinkley was born in Abbeville on January 9, 1928, the youngest of four sons born to Etta and Guthrie Hinkley, owners of Abbeville General Mercantile.
His oldest brother, Thomas Joe, was employed by the U. S. Postal Service until his retirement. His brother Arlan was killed in combat in World War II, and his brother Aaron sold insurance in the Oxford area until his retirement.
Walter attended North Yoknapatawpha County High School, where he excelled as third baseman on the Wildcats baseball team. He graduated in 1946 and married his lifelong love, Marlis Alford of Abbeville, on March 25, 1947.
Marlis and Walter have three children: Kate, born May 2, 1948; Joseph, born September 16, 1949; and Alice, born February 3, 1951.
Walter Hinkley was hired at the Bowlan Glove Factory in June 1946, starting in the warehouse as a packer working double shifts. By 1958, he had been promoted to assistant floor supervisor of machine maintenance.
When Bowlan closed in 1958, he went to work as a general foreman for Dawes Construction out of Jackson.
Walter had a reputation as a hard‑working and hard‑playing man. He had a fondness for poker games and spent most weekends playing poker, drinking, and playing pool at Pappy Harris', a roadhouse with a rough reputation.
He had his share of arrests for public disturbance, drunk and disorderly conduct, and two assault and battery charges.
Walter Hinkley died in 1995 at the age of 67 from a massive heart attack.
His wife, Marlis, is in a nursing home in Sacramento, California, where daughter, Kate, lives with her family. Joseph lives in Jackson with his family, and daughter Alice is a successful magazine editor in New York City.
---
$ 44- 54 explores a different crime scene processing technique each month. Shop Now

$ 8.00 $ 7.00 This sturdy, bright yellow lanyard printed on both sides with "CRIME SCENE DO NOT CROSS" in black letters. Shop Now

$ 30.00 – $ 33.00 Jackets feature a detective shield printed in white on the front and FORENSICS in large white type on the back. Shop Now

$ 8.00 Contains 2 of each size paper and plastic bags (large, medium and small.) Use for real evidence or fun. Shop Now

$ 75.00 $ 60.00 Examine the evidence to solve a murder. Dust evidence for prints & test fabric for the presence of blood. Shop Now

$ 25.00 $ 22.00 Create a professional crime scene sketch quickly. Shop Now

$ 25.00 $ 16.00 A wall chart illustrating common fingerprint comparison characteristics. Shipped in a protective cardboard tube. Shop Now

$ 44.00 A real print kit, fully stocked with instructions and enough supplies for at least 50 different print lifts. Shop Now

$ 4.50 – $ 150.00 The standard FBI fingerprint card, form No. FD-258 version: 11-1-20 used for noncriminal fingerprinting Shop Now