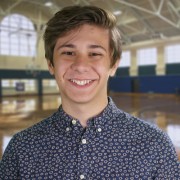 Marc Huddleston bio
Marc Jeffrey Huddleston was born in Oxford on January 23, 2003. His parents, Donald Huddleston and Nicole Fontaine-Huddleston, were in their late 30's when they got the unexpected news that Nicole was pregnant. Though they both had demanding careers as tax lawyers, they were overjoyed and fully embraced their new roles as parents.
Only two years later, they were surprised once again with their second child, Ashley. With a growing family, the Huddlestons bought a new home in the upscale Orrwood neighborhood. Marc and Ashley were given every advantage in life, and Marc's parents fostered in him a strong sense of self-confidence.
Marc was rambunctious and energetic as a child. He always loved to play outside and joined the Little League T-ball team at the age of five. Since then, he's always been on some kind of sports team, developing a particular interest in archery in middle school.
In addition to excelling at sports, Marc has also done very well in school, consistently earning a spot on the honor roll throughout high school. His teachers describe him as popular and charming, noting that he is a leader among his peers.
But not everyone is a fan of Marc's. Some of his classmates complained that Marc often brags about all of the new tech gadgets his parents buy for him and how good at archery he is.
All in all, Marc has had a happy and carefree life, but his lowest point came in 2015 when his parents divorced. Though they had an amicable split, Marc took it hard. Nicole, being the more career-driven of his parents, took a prestigious job in Scottsdale, Arizona. Despite the long distance, Nicole remains very involved in the lives of her children.
Marc met Lizzie Miller on the archery team during freshman year. He was immediately smitten with her and wasn't shy about making his feelings known. Lizzie rebuffed his attentions, saying that she wasn't ready to start dating, but Marc didn't give up hope. He and Lizzie became close friends, and while Marc continued to flirt with her occasionally, he didn't pressure her, fully confident that she would come around when she was ready.
Even though she eventually did come around, Lizzie's father, Frederick Miller, had forbidden the relationship. Frederick's ban has been particularly frustrating for Marc, who doesn't understand why she isn't allowed to see him and isn't used to not getting what he wants. The restriction has continued to be a source of tension between Marc and Frederick.
---
$ 30.00 – $ 33.00 Jackets feature a detective shield printed in white on the front and FORENSICS in large white type on the back. Shop Now

$ 25.00 $ 16.00 A wall chart illustrating common fingerprint comparison characteristics. Shipped in a protective cardboard tube. Shop Now

$ 25.00 $ 22.00 Create a professional crime scene sketch quickly. Shop Now

$ 44.00 A real print kit, fully stocked with instructions and enough supplies for at least 50 different print lifts. Shop Now

$ 44- 54 explores a different crime scene processing technique each month. Shop Now

$ 8.00 Contains 2 of each size paper and plastic bags (large, medium and small.) Use for real evidence or fun. Shop Now

$ 75.00 $ 60.00 Examine the evidence to solve a murder. Dust evidence for prints & test fabric for the presence of blood. Shop Now

$ 8.00 $ 7.00 This sturdy, bright yellow lanyard printed on both sides with "CRIME SCENE DO NOT CROSS" in black letters. Shop Now

$ 4.50 – $ 150.00 The standard FBI fingerprint card, form No. FD-258 version: 11-1-20 used for noncriminal fingerprinting Shop Now