Teacher slain at local church
OXFORD WEEKLY PLANET
Friday, October 30, 2020
YHS teacher slain at Faith and Glory Community Church
Man struck with arrow after exiting church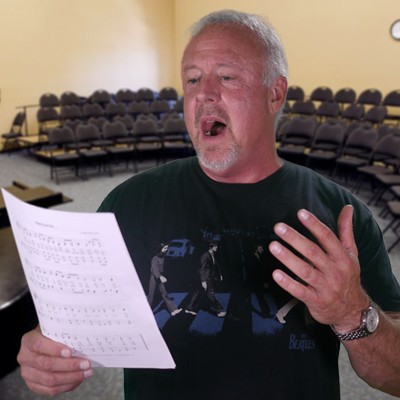 Frederick Miller
Photo courtesy of Faith & Glory Community Church
Last night, local high school teacher Frederick Miller was killed as he left choir practice at the Faith and Glory Community Church.
Choir members returning to the church to retrieve a personal item witnessed Miller falling to the ground and immediately called 911.
EMTs arrived moments later, pronouncing the victim dead at the scene. The church property and an adjacent wooded area were quickly blocked off with crime scene tape, and witnesses were held for questioning.
Dorian Akridge, a server at the restaurant located across South 10th Street from the church, noticed the commotion when several customers began to gather on the restaurant's front patio.
"I went outside and saw all the cops at the church," said Akridge. "One of our regulars, a guy named Jeremy Willis, was apparently sitting in the back of a cop car. Some of his buddies started getting belligerent, wanting to know why the cops had Jeremy and all that."
When asked about Mr. Willis's possible involvement in the incident, Akridge said that he saw Willis walk out to the patio bar about 30 minutes before the commotion, but Akridge hadn't noticed anything suspicious or out of the ordinary that evening.
"I've seen kids hanging out over there a few times," said Akridge. "but it's always been on the weekend or in the summer, so I'm not sure that has anything to do with what happened."
Yoknapatapwha County spokeswoman Elizabeth Jones confirmed that Miller was shot with an arrow, and the death is being investigated as a homicide. An autopsy will be performed today.
Jones declined to comment on whether any potential suspects have been identified.
Frederick Miller was a biology teacher at Yoknapatawpha High School, where he also helped coach the archery team. Head archery coach Travis Lancaster declined a request for comment.
Jones would not say whether investigators believe there is any connection between Miller's involvement with the archery team and his presumed cause of death.
Frederick Miller, who also served as assistant choir director at the church where he was slain, is survived by his wife, Caroline, and his teenage daughter. A representative for the family said they are devastated by this terrible loss and asked for privacy during this difficult time.
By Kemper Jones at 8:30 AM
---