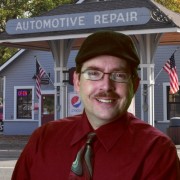 Joey Kemp bio
Joey Kemp was born on October 2, 1972, to Joseph and Sandra Kemp. He was their first child, followed by a sister, Elizabeth, four years later. After his sister and brother-in-law died in a car accident, Joseph Kemp also served as a trustee for his niece, Zina, twelve years older than Joey and orphaned when she was nine.
Soon after deciding to start a family, Joseph and Sandra bought a home they could ill afford, and they spent every day afterward stressing over how they could make ends meet. Joseph worked in a machine shop, grabbing every overtime shift offered to him, and Sandra found employment as a secretary in whatever school Elizabeth happened to be attending. After school, Sandra taught piano to children in the neighborhood, leaving Joey in charge of keeping Lizzy occupied and quiet.
Joey did what needed to be done—a lesson he'd learned from his parents—but he acted out whenever he felt free to do so. Teachers soon described him as a troublemaker and negative influence in class, and he was heading towards being expelled when he was saved by Mr. Miller, his sixth-grade math teacher.
Mr. Miller managed to reach Joey and to find a way to awaken a love and understanding of mathematics in his young charge. For his part, Joey discovered logic, an academic study where things made sense. In the inevitability of mathematics, Joey gained a worldview that somehow seemed fair.
While Joey was studying to become an accountant, his father was killed in a work accident, and Joey dropped out of the program to take care of his family, accepting a mindless job in a warehouse to pay the bills. Having lost the sense of meaning he'd only recently found, Joey turned to his cousin, Zina, and followed her example by embracing the Fellowship of the Holy Spirit.
Two months later, when Pastor Martinson mentioned to the congregation that the church sought a treasurer, Joey offered to take on the role, seeing a chance to merge his two great loves.
---
$ 8.00 $ 7.00 This sturdy, bright yellow lanyard printed on both sides with "CRIME SCENE DO NOT CROSS" in black letters. Shop Now

$ 75.00 $ 60.00 Examine the evidence to solve a murder. Dust evidence for prints & test fabric for the presence of blood. Shop Now

$ 8.00 Contains 2 of each size paper and plastic bags (large, medium and small.) Use for real evidence or fun. Shop Now

$ 25.00 $ 16.00 A wall chart illustrating common fingerprint comparison characteristics. Shipped in a protective cardboard tube. Shop Now

$ 44.00 A real print kit, fully stocked with instructions and enough supplies for at least 50 different print lifts. Shop Now

$ 30.00 – $ 33.00 Jackets feature a detective shield printed in white on the front and FORENSICS in large white type on the back. Shop Now

$ 4.50 – $ 150.00 The standard FBI fingerprint card, form No. FD-258 version: 11-1-20 used for noncriminal fingerprinting Shop Now

$ 25.00 $ 22.00 Create a professional crime scene sketch quickly. Shop Now

$ 44- 54 explores a different crime scene processing technique each month. Shop Now