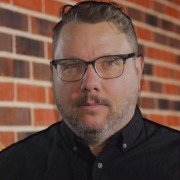 Larry Johnson bio
Larry Johnson was born on February 5, 1980, to David and Cynthia Johnson in Jonesboro, Arkansas. David worked on various farms in the area, and Cynthia raised Larry and his four siblings.
Growing up in a typical farming family, Larry often helped his father in the fields and, as a result, missed a lot of school. His academic performance was poor, and he dropped out of high school as soon as he reached the legal age. On the day after he quit school, Larry joined his father in the fields.
David Johnson was known throughout the community for his relentless work ethic. He had a reputation as a strong man who never complained in the fields and someone his neighbors could count on. When neighbor Tom Snapp hurt his back, David took over his farm chores, working from sunup until suppertime on the Snapp farm so the family wouldn't go without while Snapp was laid up. After he finished at the Snapp farm, David went home to tend to his own crops. During the harvest season, David also hired on at some of the larger farms in the area to earn extra money.
Larry didn't inherit his father's work ethic. He was willing to work, and he put in his time, but he didn't do a minute extra. He didn't relish the sweat and sore muscles the way his father did. David often wondered where he went wrong with Larry, but most family members just said he was born that way.
As Larry got older, he began to clash with David. He just didn't understand why anyone should work so hard for so little. Some of the guys who worked at the feed store in town were known to grow a little marijuana and sell some on the side. To Larry, it seemed an easy way to supplement the meager income he was receiving from farming. When David found out about Larry's drug dealing, he kicked his son out of the house.
Larry spent the next several years drifting from one small town to another. He ended up in the Oxford, Mississippi, area because his grandmother lived in nearby Holly Springs. He found work on area farms, where he grew his own marijuana in remote corners no one ever visited. He had been selling for a couple of years when Officer Charles Tatum arrested him.
Larry was sentenced to incarceration at Parchman Prison. While he was in jail, his widowed mother moved to Holly Springs to take over her family home. She often sent Larry letters urging him to repent and to find the Lord in his life. During this time, Larry met a Baptist preacher who volunteered at the prison. Over the months in jail, Larry converted to Christianity and renounced his former life of crime.
The Baptist preacher lobbied hard for Larry's release, and eventually, Larry was paroled. He returned to Holly Springs and began preaching at a local church.
---