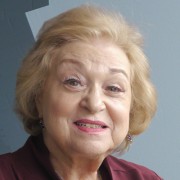 Edith McElroy bio
Edith McElroy was born Edith Virginia Tremont on November 29, 1951, in Butte, Montana, the only child of Archie and Dorothy Tremont. Archie worked in the mine, and Dorothy was an elementary school teacher.
Edith loved everything about school but especially excelled in her reading and writing skills and dreamed of becoming a famous writer. Her favorite activity was writing for her high school newspaper.
For college, she decided on the University of Montana mainly because of its accredited school of Journalism, but since it was only a few hours from her parents' home, she could easily return to Butte on weekends and holidays.
In her sophomore year, Edith became engaged to a charismatic young man who was popular on campus and completely charmed her. But Edith was a serious student and soon realized that she and her fiancé had different goals in life. After a few months of the engagement, he became increasingly controlling. When Edith gave him back his ring, he physically threatened her if she didn't return to him.
To get as far away from him as possible, Edith went to live with an aunt and uncle in Oxford, Mississippi, and transferred to the University of Mississippi's School of Journalism.
While at Ole Miss, she met Matthew McElroy, editor of the Oxford Daily News. After he read her reporting for the Daily Mississippian, he offered her a job. Matthew was 10 years her senior and provided her with the love and security she was seeking. They married the summer after her graduation from Ole Miss, and Edith went to work at her husband's newspaper.
For years, Edith begged Matthew to stop smoking and get treatment for his persistent coughing, but he stubbornly resisted. When he was diagnosed with lung cancer, Matthew fought hard to beat it but lost and died in 2008.
When Matthew became ill, they decided to sell the paper so they could spend more time together. After Matthew's death, Edith remodeled her large home into two smaller apartments so she could live in one unit and rent out the other for income.
She filled her days working as a volunteer at the local hospital and raising funds for community organizations benefiting children. To balance out her volunteer schedule, she joined a book club, played bridge each week with friends, and tended her well-kept garden.
In 2012 Edith met Charles Tatum when he answered the ad to rent her apartment. She was delighted to have a member of the sheriff's department living nearby. Since Matthew's death, she'd been concerned about living alone, especially as she grew older.
She and Charlie became friends, and soon their relationship was more like family than landlady/tenant. She occasionally invited him to eat with her, and he took her out to dinner on her birthday, but Edith was adamant about them respecting each other's privacy and she carefully avoided interfering in his life.
When Edith noticed a suspicious odor emanating from Charles Tatum's apartment, she called 911.
---