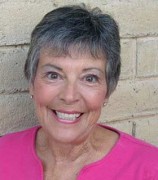 Phyllis Roy bio
Phyllis was born on October 18, 1947, in Oxford, Mississippi. Her parents, Ed and Verna Rand, died in a house fire when Phyllis was 20 years old.
Phyllis married Brady Roy on May 4, 1966, and they went on to have two children. Their son, Donny, is now married and has one child, a son named Dylan Timothy. Their daughter, Reba, is divorced with two girls, Mara and Helene. Both families live in the Oxford area.
Phyllis's husband, Brady, worked as a carpenter on commercial and residential construction projects all around north Mississippi. He retired in the early 2000s, and Phyllis was thrilled to have him home more than he ever had been during their entire marriage. But soon, they both grew weary of constant togetherness, and Brady started taking on small carpentry jobs like building cabinets and repairing furniture.
In the mid-2000s, Brady started experiencing lower back pain and shortness of breath, and in 2013, he was diagnosed with pleural mesothelioma. He passed away in 2014.
After her husband's death, Phyllis sold their house and most of their furniture, and moved into the Maplewood Apartments in 2015. Her children and her grandchildren visit her as often as they can.
Phyllis knows most of her neighbors and enjoys chatting with them.
---
$ 8.00 $ 7.00 This sturdy, bright yellow lanyard printed on both sides with "CRIME SCENE DO NOT CROSS" in black letters. Shop Now

$ 25.00 $ 16.00 A wall chart illustrating common fingerprint comparison characteristics. Shipped in a protective cardboard tube. Shop Now

$ 4.50 – $ 150.00 The standard FBI fingerprint card, form No. FD-258 version: 11-1-20 used for noncriminal fingerprinting Shop Now

$ 8.00 Contains 2 of each size paper and plastic bags (large, medium and small.) Use for real evidence or fun. Shop Now

$ 44.00 A real print kit, fully stocked with instructions and enough supplies for at least 50 different print lifts. Shop Now

$ 44- 54 explores a different crime scene processing technique each month. Shop Now

$ 30.00 – $ 33.00 Jackets feature a detective shield printed in white on the front and FORENSICS in large white type on the back. Shop Now

$ 75.00 $ 60.00 Examine the evidence to solve a murder. Dust evidence for prints & test fabric for the presence of blood. Shop Now

$ 25.00 $ 22.00 Create a professional crime scene sketch quickly. Shop Now