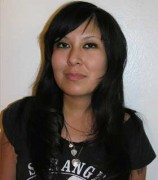 Mee-Yon Kim biography
Mee-Yon Kim was born on October 17, 1998, in Kansas City, Kansas, to Harry and Sheila Kim. Mee-Yon has an older brother, Shin, and a younger sister, Choon-Hee.
Mee-Yon was named after her grandmother who died of breast cancer two days before Mee-Yon was born.
Mee-Yon's paternal grandfather, Samuel Kim, had met his future wife while he was serving in the Korean War. When his tour of duty was over, the two returned to the US and were married.
Mee-Yon's father, Harry, owns and operates his own sporting goods store in Kansas City, and Sheila works part-time as a medical assistant.
Mee-Yon helped out in the store until she went away for college. She was offered academic scholarships from several top colleges, but she chose the University of Mississippi because her best friend, Courtney Morris, was also accepted there.
In Oxford, Mee-Yon works part-time at the Oxford Health Club, where she teaches 10 to 14-year-olds how to kickbox.
Mee-Yon is too busy with school and work for a boyfriend. She spends all of her free time with Courtney.
---